---
Jan 12 | 2022
Satellite And Container Weighed 60 Tonnes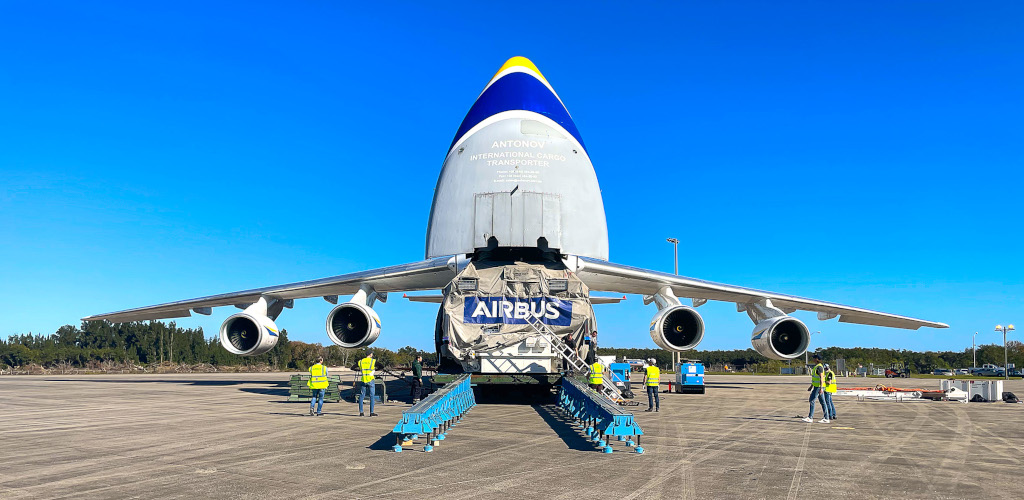 Antonov Airlines has used one of its AN-124-100 aircraft to fly a Turkish telecommunications satellite from Toulouse in southern France to Florida.

The project cargo specialist teamed up with Bollore Logistics to deliver the Turksat 5B unit ahead of its launch at Cape Canaveral in mid-December.

The satellite, shot into orbit by Elon Musk's aerospace firm SpaceX, was transported in a specially-fabricated, 15-metre long container designed by Airbus Defence and Space. The cargo weighed a total of 60 tonnes.

The move was the third satellite-related shipment Antonov Airlines has completed in the last few months.

"The expertise of the Antonov Airlines technical crew and engineers guarantees the smooth and efficient transport of this delicate and unique cargo," said Sergii Bilozerov, the operator's commercial executive.

"An external crane in conjunction with the onboard crane and winch of the AN-124-100 was used to load and unload the container, as well as special loading equipment designed and manufactured by Antonov's in-house engineers."

Antonov Airlines, a division of Ukrainian state-owned aircraft manufacturer Antonov Company, flies to some 800 airports worldwide every year, carrying oversized cargo for industries such as energy, oil and gas, automobile, aerospace, helicopters, maritime and intermodal.

Its fleet includes the world's heaviest aircraft – the AN-225 Mriya, capable of transporting up to 250 tonnes of cargo.

Antonov Airlines is exhibiting at Breakbulk Middle East 2022, taking place on 1-2 February at the Dubai World Trade Centre, Dubai. Check out the full list of exhibitors and special events.