---
Jun 29 | 2021
Global digitalization Drives Uptake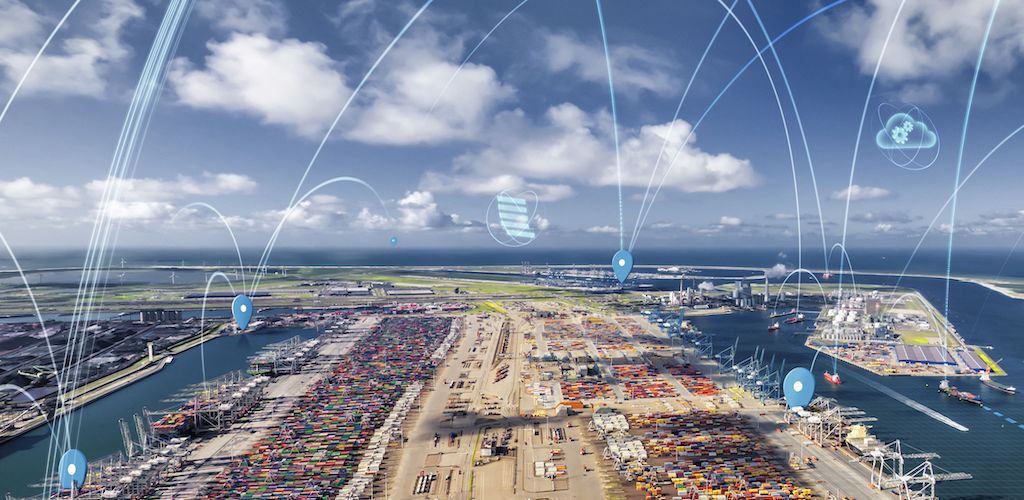 Since blockchain technology first emerged more than a decade ago, it has been touted as a unrivalled tool for change, but understanding the true potential for the breakbulk sector is a process that will likely take years to unravel.
Typically, discussion of blockchain technology is dominated by the rise of bitcoin and alternative cryptocurrencies in financial markets, but in reality some of its most far-reaching consequences may be in sectors far outside of finance.
"For breakbulk carriers blockchain is mainly relevant for commodities trade and in particular its role in trade finance and reduction of fraud," Aljosja Beije, Director of Blocklab a start-up based at the Port of Rotterdam, told
Breakbulk.
"The key use case is reduction of fraud and the ability to tackle fake bills of lading. Banks currently lose billions through fake BLs, and there are now a huge variety of electronic BL platforms seeking to tackle this."
At its most basic, blockchain provides a distributed ledger system allowing different stakeholder in a supply chain to contribute and independently verify transactions. For the logistics industry this has most commonly been seen as a tool for container traffic, where cargoes are broadly homogenous. However, a growing number of start-ups see potential for blockchain in breakbulk.
Rapid Acceleration
While blockchain was first conceptualized in 2008, it is only in recent years that serious research and development has taken place into the real-world application of this technology. Most notably the last 18 months have seen a rapid acceleration in progress, hastened by the Covid pandemic and a global shift to electronic working.
"Covid has greatly accelerated digitization across the sector and this has been followed by major announcement, such as the G8 countries aim to introduce legislation in the next 12-18 months. While that might be ambitious, we will no doubt see the majority of developed nations moving towards digital systems over the next five to 10 years.
For firms like heavy-lift and project freight logistics management firm XELLZ this acceleration has reinforced their existing model. The firm has been exploring the use of blockchain for several years and sees multiple benefits in safety, security and transparency.
"Of course there has been a change in doing business, but we have experienced that this has been pretty smooth," Petrus Bouwhuis, CEO of XELLZ, said to
Breakbulk,
adding that, "If it comes to Blockchain in project logistics, I do not see much changing in 2021 for the simple reason that Blockchain is not always suitable or required in the project logistics sector. The liner and airliner industry is different as they have to deal with a contract between parties that are not always known to them and whereby they can exchange documents, like BLs via a Blockchain driven system."
Bouwhuis noted the importance of finding the right application for the technology, saying XELLZ previously created a test environment within its platform, linking data streams via blockchain, however the responses they received showed the system/platform actually slowed performance down "significantly," due to too many calculations on the ledger. "Blockchain is not needed in an environment where parties know each other and where there is already a level of trust," he added.
Multiple Solutions
While the close connection and bespoke nature of many breakbulk transactions means that the use cases may be more limited this has not stopped a proliferation of new blockchain technologies appearing in the last year. And while this may highlight the interest in the field for breakbulk operator considering their options it can create a confusing array of choices.
Beije suggests this choice is unlikely to diminish as technology matures, noting "It's unlikely there will be one solution to rule them all, mainly due to geopolitical and legislative issues, but countries are all moving towards this. It is not only blockchain but a raft of other technologies which are driving this change, including AI, IoT, machine learning and 5G."
This current phase of experimentation suggests that some platforms will necessarily fall by the wayside, with cost and time consideration always paramount, but the future is likely to consist of multiple hybrid solutions requiring real-time interoperability.
"The No. 1 factor for any breakbulk operator considering EBL solutions and blockchain is undoubtedly the level of interoperability and the ease with which data or assets can be reuse between applications or moved between ecosystems," he said.
Beije predicts that the major gain for breakbulk operations will be in the cost of processing of shipments and associated admin, which is expected to go down dramatically once well integrated systems are in place.
"We have run a pilot at the Port of Rotterdam and our figures show efficiency gains equivalent to 2.5 percent of the total value of goods, Beije concludes, "and this reflects a sizeable addition to bottom line."
---
Subscribe to BreakbulkONE and receive more industry stories and updates around impact of COVID-19.