---
Jan 14 | 2022
UK Specialist Used Super Wing Carriers To Transport 57-Metre Units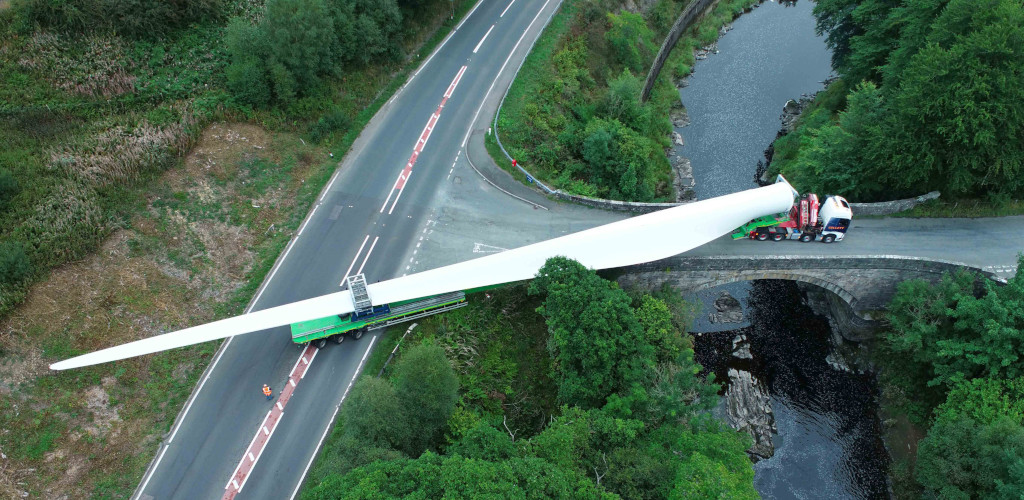 UK-based Collett has successfully navigated some tricky terrain to complete the delivery of 81 oversized components for an onshore wind power project in southwest Scotland.
The heavy-lift and haulage specialist was charged with transporting the cargo some 170 miles from King George V Dock in Glasgow to the 38-megawatt, or MW, Twentyshilling Wind Farm close to the village of Sanquhar in Dumfries and Galloway.
The transfer, beginning in June 2021 and taking 14 weeks to complete, included tower sections, blades, nacelles, drive trains and hubs for each of the wind farm's nine Vestas V117 turbines.
The move hit a snag after test drives along the route revealed a pinch point that prevented the 57-metre blades from turning on to an access road via a bridge just two miles from the project site. To compensate, a turning head was built at the bridge prior to the start of the job.
"This would ensure that the vehicles could safely turn around off the main road and complete the right turn on the approach to site," the operator said.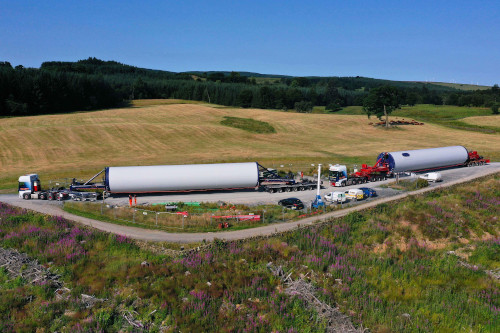 Collett used its super wing carriers to shift the 15-tonne blades, special clamp trailers for the bottom and middle towers and 5 and 6 axle step-frame trailers for the top towers, nacelles, drive trains and hubs. Police escorts were on hand during the delivery of the components.
The Twentyshilling Wind Farm, owned by Norway-headquartered clean energy producer Statkraft, is expected to be fully operational in early 2022.
Collett will be exhibiting at
Breakbulk Europe 2022
, taking place on 17-19 May in Rotterdam.