---
May 21 | 2020
(Europe) Vital ICE Link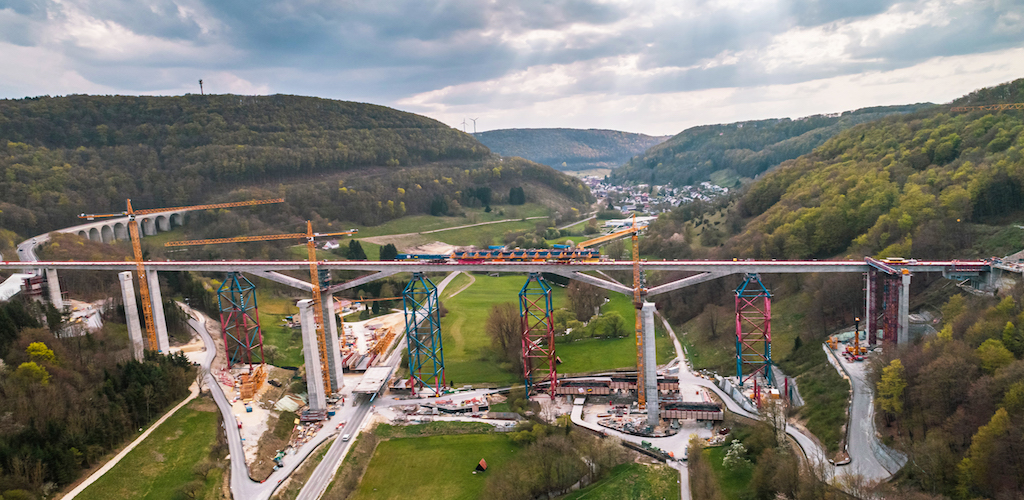 Haulage specialist Cometto has assisted transport firm Wiesbauer with the installation of an outsized formwork carriage as part of the Filstal Bridge project in Germany.
Cometto supplied MSPE self-propelled modular trailers to transport the formwork carriage, which weighed 350 tonnes and measured 85 meters long, for the project.
Airstream Calculations
The new bridge stands 85 meters in height, spanning the the valley near Mühlhausen im Täle and is under construction by the Max Bögl/Porr consortium. A permanent air stream in a valley created additional considerations for the project as wind had to be taken into account.
"That is where our engineers came into play … In order to guarantee stability in all phases of the transport, calculations were made for wind speeds of 36 kilometers per hour, 72 kilometers per hour and, in case of a storm, 100 kilometers per hour too," said Joachim Kolb, sales manager at Cometto.
Advance calculations resulted in a maximum permissible lateral tilt of 4.58 percent with a wind speed of 72 kilometers per hour.
"In order to safely comply with these benchmark figures, the transport was moved forward by one day at short notice, because a storm front had been forecast, which could have endangered the procedure," Kolb explained.
First Cross-hire Rental
After careful preparation and installation of a cross-transfer track to ease transfer, the formwork carriage was finally installed with millimeter precision to the desired position.
"MSPE axle lines from Cometto were used for the first time in "cross-hire rental" for this transport project on the Filstal Bridge. In details, this means that the 20 axle lines and two power pack units from Wiesbauer's vehicle fleet were joined by a 6-axle unit with power pack from Krebs Korrosionsschutz from Rostock," Commetto said.
Cometto is owned by Luxembourg-based manufacturer Faymonville, which manufactures a range of semi-trailers for the special haulage industry catering for transport solutions from 15 tonnes up to 15,000 tonnes. Faymonville is Global Even Partner of Breakbulk exhibitions.
---