---
Apr 02 | 2019
Urgent Repairs Needed to Facilitate Project Moves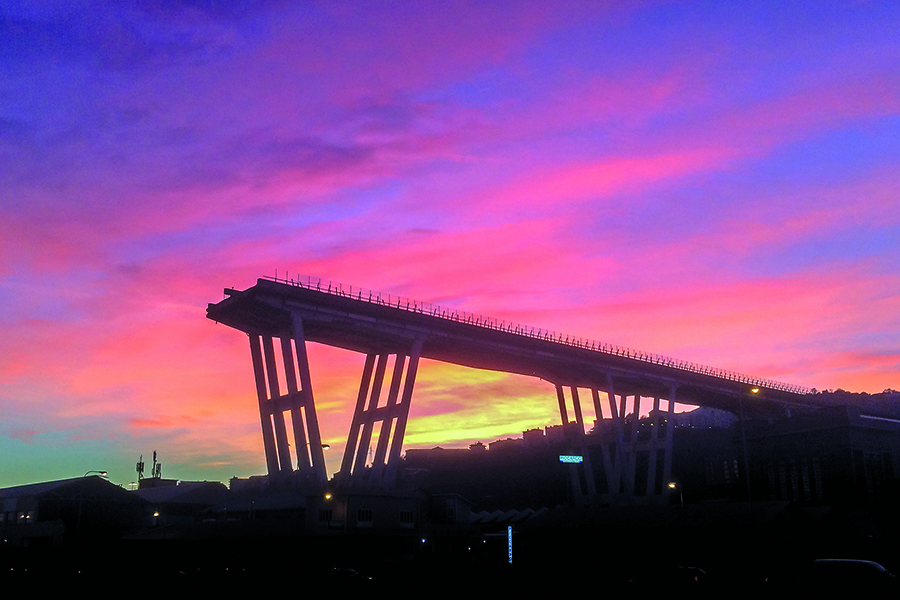 By Amy McLellan
Europe's aging infrastructure made international headlines in August 2018 when a motorway bridge collapsed in Genoa, killing 43 people. A 200-meter section of the Morandi Bridge, a key artery between France and northern Italy which was completed in 1967, fell 45 meters, along with dozens of vehicles, crushing buildings below.
The tragedy shone a light on the poor maintenance of aging infrastructure across Europe, an issue that has long concerned operators in the abnormal transport industry.
Indeed, only the year before, a bridge collapsed onto the A14 motorway on the Adriatic Coast, killing two people, while in 2016 a bridge over a dual carriageway in Lecco, northern Italy, collapsed when a heavy goods vehicle with a specially authorized heavy weight of 108 tonnes was crossing, killing one person. Little wonder Italy's CNR civil engineering society has called for a "Marshall Plan" to repair or replace tens of thousands of bridges in Italy that have surpassed their lifespans.
However, the problem is not confined to Italy. The month before the Genoa tragedy, the French Transport Ministry had been warned that 840 bridges, about one-third of those maintained by the state, could be at risk of collapse if not reinforced. The report, commissioned by the ministry from two private consultancies, pointed out that bridges in France "are only repaired, on average, 22 years after the appearance of the first deterioration."
Meanwhile, a report by Germany's Federal Highway Research Institute found that while only 12.4 percent of the country's road bridges were in bad condition, just 12.5 percent were considered good. Infrastructure in eastern Germany is generally in better condition because of a post-reunification renovation program in the 1990s and 2000s, while bridges in the west are typically of 1960s and 1970s vintage and not designed for today's heavy freight traffic.
Heavy goods vehicles are already barred from a number of German bridges, including the Leverkusen Bridge over the Rhine north of Cologne, one of the busiest motorway bridges in Germany and which has been closed to large vehicles since 2012 after cracks were discovered.
In December 2017, PORR Deutschland GmbH won the €360 million contract to demolish the bridge and build a new one, which, on completion in 2024, will have increased capacity of eight lanes. The work will be phased, enabling heavy goods vehicles to resume crossing the Rhine by the end of 2020, which will not only ease regional congestion but address the dismay felt by many at this very public exposure of cracks in the public infrastructure of Europe's industrial powerhouse.
Age-old Problem
This is a problem that has been brewing for decades, with civil engineering experts long warning that the concrete so beloved of the 1960s and 1970s construction boom had a limited lifespan.
"The bridge problem is not new," points out André Friderici of Swiss-based heavy transport and crane firm Friderici Spécial. "We've been having discussions about this for 40 years or more now."
Yet despite these warnings – in 2012, for example, the head of the Genoa Italian employers' organization Confindustria told a local newspaper that the Morandi bridge would collapse within 10 years – there has been little political will or funding to replace crumbling infrastructure. One issue is that politicians have a "ribbon-cutting" approach to infrastructure, reveling in the photo call at the opening of a new bridge or road but then conveniently forgetting the need for ongoing maintenance.
As a result, industry players can cite examples of exceptional loads that have had to take 400-kilometer detours, and heavy cranes that have had to travel two to three times the required distance because road infrastructure has been downgraded or projects delayed by months while transport bosses wait for permits to arrive. It all adds to costs, time and the carbon footprint for project cargo moves, said Ton Klijn of ESTA, the European association for the abnormal road transport and mobile crane rental industry.
ESTA is not just lobbying for much-needed infrastructure investment; it's also keen to develop harmonized standards and documentation. Klijn pointed to a labyrinthine permitting regime, which varies from country to country and region to region. Given the multiplicity of regulators, languages and formats, this generates a huge amount of red tape and piles costs onto the movement of abnormally heavy loads across the European continent. And this has only gotten more difficult in the risk-averse mood that followed the Morandi bridge collapse.
"The authorities issuing the permits just don't want to take the risk, so it's easier for them to say no and make it someone else's problem," said one industry player.
The result is ever more costly preparations to apply for permits – much to the financial credit of engineering consultancies that specialize in this kind of survey work – increased paperwork, delay and detours. ESTA worked out that the turnover of the big crane and heavy transport vehicles sector is about €2.4 billion a year, of which, Klijn said, roughly €500 million is spent on permitting, from the surveying of routes to the cost of permits. "We estimate about half that €500 million would be saved if we would only have transport corridors and standardize commonly accepted documentation," he said, favoring the development of heavy transport corridors to streamline processing and permitting across the continent.
"We want to do away with unnecessary red tape that doesn't do anything to improve safety, structural integrity nor does it add any value," Klijn said. "It's very damaging to competitiveness, not just on a regional level but to the whole of Europe."
Military Might
That may be about to change, however. Increased tensions with Russia and the results of recent NATO military exercises mean Europe's infrastructure has become a matter of priority for military top brass on both sides of the Atlantic.
"We … need to ensure that roads and bridges are strong enough to take our largest vehicles, and that rail networks are equipped for the rapid deployment of tanks and heavy equipment," NATO Secretary General Jens Stoltenberg told reporters in November 2017 ahead of a NATO Summit. "NATO has military requirements for civilian infrastructure, and we need to update these to ensure that current military needs are taken into account."
His comments came after a spring 2017 pilot exercise initiated during the Estonian Presidency of the EU, which involved moving troops, tanks and other military equipment from the North Sea to the Baltic coast. The pilot uncovered height and weight restrictions on some bridges and a lack of heavy-loading capacity for oversized military equipment traveling by rail.
The exercise also found that different permitting and regulatory regimes across Europe impacted the movement of military equipment: a convoy of U.S. howitzer guns traveling from Poland to southern Germany, for example, was held up when German police stopped the Polish company transporting them for violating local transport regulations. The exercise also found that NATO officials were held up by passports and customs checks, leading then Dutch Defense Minister Jeanine Hennis-Plasschaert, to call for the creation of a "military Schengen zone."
This certainly chimes with the EU's ambitions to strengthen its defense capabilities. EU President Jean-Claude Juncker had previously stressed the imperative of creating a full-fledged European Defence Union by 2025, and this work is already underway in the form of the European Defence Action Plan and the European Defence Fund, with improved military mobility a key priority. A roadmap has been drawn up to improve military mobility with a focus on four key areas: legal aspects; customs; military requirements, including infrastructure-related military standards; and cross-border movement permissions, including diplomatic clearances.
Helping Hand
The EU's fast-developing military capability has been a shot in the arm for ESTA's lobbying effort for heavy transport corridors. In December 2018, the Council of Europe adopted its position on the EU's flagship program Connecting Europe Facility, or CEF, which focuses on developing and modernizing transport, energy and digital networks. When it comes to trans-European Transport networks (TEN-T), the CEF program will dedicate funds to the development of civilian-military dual-use transport infrastructure with a view to improving military mobility within the union.
The news was warmly welcomed by the abnormal road transport and mobile crane rental industry. "It makes sense and will be beneficial to industry and government," ESTA's Klijn said.
Friderici hoped the military imperative could see a breakthrough on an initiative that has struggled to make headway. "It's always very difficult to get agreement across all the different countries, so we're hopeful that if it's coming from the top down then we will see some meaningful progress."
It's early days, of course. "The next step will be for the presidency to start negotiations with the European Parliament on the final (partial) text," an EU spokeswoman said. "The budget-related and horizontal aspects are part of the negotiations on the EU's next long-term budget Multiannual Financial Framework. The Romanian presidency aims to start the negotiations on the CEF soon and at least partially reach an agreement with the Parliament."
In layman's terms, that means there's a long way to go with much debate, analysis and horse-trading required to move the initiative forward – and that's not including the need to liaise with military officials at EU, member state and NATO level. However, the hope is that overarching military needs will put real momentum behind the need to develop heavy transport corridors to streamline processes, permitting and planning, and unlock much-needed funding to address long-term infrastructure weaknesses that impact project cargo moves.
"It's not going to be easy," Klijn conceded, readying himself for a trip to Texas to meet U.S. counterparts who are working to harmonize weight allowances and permitting systems across all U.S. states. "Between Rotterdam and Hamburg, for example, there could be 30 different road authorities to deal with, which means it will be difficult but it's in the common interest so it's worth doing."
Freelance journalist Amy McLellan has been reporting on the highs and lows of the upstream oil and gas and maritime industries for 20 years.

Image credit: Shutterstock