---
May 07 | 2020
US Makes Wider Wind Moves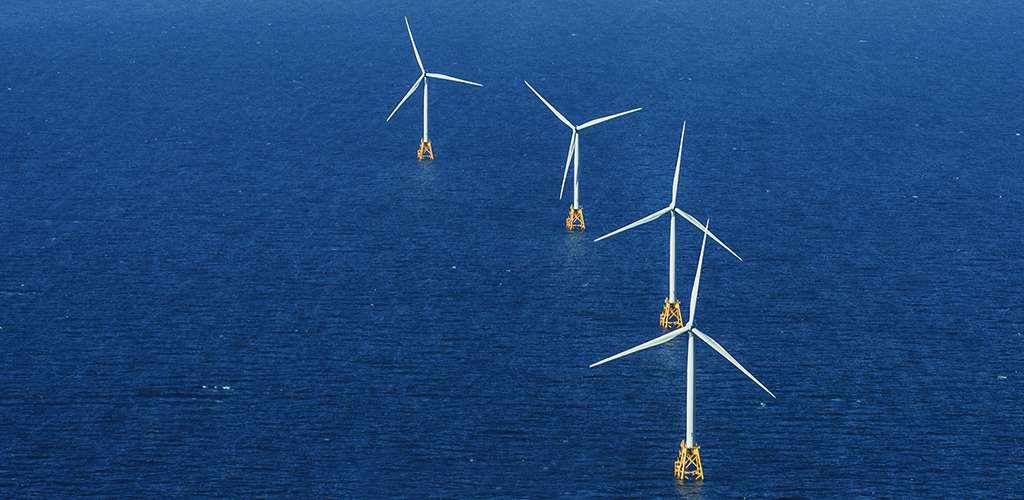 By Lori Musser

BREAKBULK MAGAZINE ISSUE 3 / 2020 – ENERGY UPDATE –
Offshore wind farm leases are starting to pepper maps of the U.S. northeastern seaboard. New York State has joined the fray, promising to be a global leader in the fight against climate change, and kick-starting an unprecedented level of investment in port facilities and cutting-edge technology. Project cargo supply chains may have reason to celebrate.
The American Wind Energy Association's U.S. Offshore Wind Power Economic Impact Assessment, released in March 2020, reported exponential growth potential for the offshore wind industry in the U.S. "Market projections anticipate between 20,000 to 30,000 megawatts of offshore wind capacity will be operational by 2030, representing between US$28 billion and US$57 billion of investment in the U.S. economy," according to the report.
John Hensley, AWEA vice president of research and analytics, said to Breakbulk: "Offshore wind represents a major opportunity for domestic manufacturers, who will not only build the blades, towers and nacelles of the turbines themselves, but also the foundations, substations, cables, steel and other subcomponents, as well as critical logistics infrastructure such as transport and installation vessels and equipment."
Tremendous economic benefits are forecasted. "All of this manufacturing activity will help create up to 83,000 family-supporting jobs in the U.S. over the next decade," Hensley said.
To date, there is one functioning offshore wind farm on the northeast seaboard, a 30-megawatt, five-turbine demonstration project, Block Island Wind Farm, which began operating off Rhode Island at the end of 2016. It was constructed by Deepwater Wind, later acquired by Ørsted U.S. Offshore Wind.
For this project, the turbine foundations were engineered and constructed by offshore oil and gas players in Louisiana. Supply chain members barged foundations out of Louisiana, assembled foundations in ProvPort, built wind turbines in France and wind blades in Denmark, and addressed Jones Act requirements by transporting the generators from France on the Norwegian installation jack-up vessel.
While the supply chain for Block Island was truly innovative, developers must broaden it, while increasing U.S. domestic contributions. Hensley said, "The U.S. supply chain is growing substantially and will continue to expand over time, as more and more domestic manufacturers and service providers respond to the significant economic driver that offshore wind development represents."
Wind Energy Demand
U.S. northeastern states are driving demand for offshore wind. The AWEA report said that the industry certainty provided by the states of Connecticut, Maryland, Massachusetts, New Jersey, New York and Virginia, with their combined targets to procure a total of 25.4 gigawatts of offshore wind by 2035 (and 6 GW of projects as of February 2020), will enable investment and help create the U.S. supply chain.
The supply chains are expected to echo that of onshore wind, which benefited from technology improvements and cost reductions and saw land-based wind capacity grow from 2.5 GW in 2000 to more than 105.5 GW by the end of 2019, according to AWEA. There will be domestic opportunities for job growth, project construction and operations, and domestic manufacturing, as well as port revitalization and vessel construction.
"To date, project developers and manufacturers have announced planned investments totaling more than US$1.3 billion across a variety of projects including ports and new manufacturing facilities," according to AWEA.
"Most, if not all, states with active offshore wind procurement plans explicitly treat the development of an in-state supply chain as one of the key non-price decision criteria," said AWEA's report, citing plans by Ørsted, Eversource, Vineyard Wind, Equinor and U.S. Wind to establish offshore wind assembly hubs and operations and maintenance hubs. "For example, Ørsted and Eversource have a public-private partnership with the state of Connecticut to invest US$157 million in upgrades to State Pier's infrastructure and heavy-lift capabilities in New London. In New York, Equinor, Ørsted and Eversource have announced combined investments of US$70 million for port improvements across the state," the AWEA report confirmed.
Seaport infrastructure announcements related to offshore wind have been made for Bridgeport and New London, Connecticut; Tradepoint Atlantic, Maryland; New Bedford, Massachusetts; Atlantic City, New Jersey; Port Jefferson and other seaports, New York; and the Port of Providence and North Kingston, Rhode Island.
Domestic Origins
There is room for growth in domestic manufacturing of blades, towers and nacelles, and also foundations, substations, cables, steel and other subcomponents, and in logistics infrastructure.
"To highlight a few announcements, in 2019, developer Ørsted and manufacturer EEW signed an agreement to establish a factory for steel foundations in Paulsboro, New Jersey. In October 2019, Vineyard Wind announced a partnership with Marmon Utility to upgrade and build out its manufacturing facilities to become the first U.S.-based supplier of inter-array cable cores. Early in 2020, Siemens Gamesa Renewable Energy stated they are "actively considering" a US$200 million blade manufacturing facility in Virginia. Meanwhile, Welcon and Marmen have agreed to build a new manufacturing facility in the Northeast to manufacture towers and fixed and floating foundations," AWEA reported.
As of the first quarter of 2020, investments announced included US$307 million in port-related infrastructure, US$650 million in transmission infrastructure, US$342 million in U.S. manufacturing facilities and supply chain development, and unspecified investments in offshore wind hubs and factories along the seaboard. Also, there are orders to build four new U.S.-flagged crew transfer vessels.
AWEA anticipates that offshore wind benefits will be somewhat dispersed: "While activity will be concentrated in coastal states close to the offshore wind projects, supply chains and service providers across the country will have an opportunity to support this new industry."
In New York State, Gov. Andrew M. Cuomo has set a goal for 9 GW of offshore wind by 2035. Under the act, the state must create a carbon-free electricity system by 2040.
Søren Lassen is senior offshore wind analyst with Wood MacKenzie Power and Renewables. With recent, large tenders and aggressive state-level targets in the U.S., Lassen said to Breakbulk: "This is going to be a huge offshore wind market. Things are lining up from a demand point of view, but there is a question as to what extent the market will grow."
Northeast offshore wind is a frontier market. Lassen said there will be bottlenecks, such as permitting issues delaying final investment decisions and construction.
The new contracts that the state of New York has finalized with Equinor Wind US LLC, for its 816 MW Empire Wind Project, and Sunrise Wind LLC, for its 880 MW Sunrise Wind Project, represent the largest procurement for offshore wind in U.S. history.
Supply Chain Opportunities
Procurement at this level presents opportunities all along the breakbulk and project cargo supply chain.
Cuomo has committed to investments of US$287 million in manufacturing, service and port facilities in New York and US$20 million for a university-level wind workforce training system.
Sunrise Wind is one of several projects in the Northeast by Danish renewable energy company Ørsted and New England's Eversource Energy. It will be operational in 2024.
Together, Ørsted and Eversource's South Fork, Sunrise Wind and Revolution Wind projects are expected to have a total capacity of about 1.7 GW.
Cameron Stoker is communications manager for the U.S. Northeast with Ørsted. He said the 880 MW offshore Sunrise Wind farm has "the potential capacity to power more than half a million homes."
"Sunrise is a 50/50 partnership between Ørsted and Eversource. As the largest offshore wind developer in the world, Ørsted has unparalleled experience developing, planning and building offshore wind farms. Not only is Ørsted the perfect partner for New York's offshore wind goals, we are the perfect partner of the state's climate goals as well," Stoker said to
Breakbulk.
Stoker said some of the main cargo supply chain opportunities will include "marine transportation of project cargo: including, turbine components (blades, nacelles, towers), cables, electronic components; turbine component staging and pre-installation activities; and turbine and foundation installation."
Empire Wind is an 816 MW project to be developed by Norway's Equinor. The US$3 billion project will be equipped with 60 to 80 turbines offering 10 MW each. Like Sunrise Wind, it will also be completed in 2024 and will be able to power upwards of 500,000 homes.
But it's not necessarily a quick win for project cargo movers. Lassen commented: "A lot of people look at the existing supply chain and compare that to huge growth potential. They say there are no Jones Act vessels, no existing component manufacturing, and no steel mills. Port infrastructure needs to be expanded. But there is no demand right here and right now. It is sequential. You need demand, and then you will see the supply chain build up," he said.
Traditional energy industry, and recent offshore wind developments in Europe offer lessons for U.S. offshore wind. "There are similarities and synergies between offshore wind and oil and gas," Lassen said, but he cautioned against overestimating those synergies. Some oil and gas players have entered the offshore wind market in Europe and exited quickly. "There is a lot of squeeze in the offshore wind supply chain. It is challenging," Lassen said.
For example, "jacket foundations may be similar, but for oil and gas they are larger and more tailor made. For offshore wind there is a need for efficient, serial manufacturing … requiring investments to establish the right footprint to be successful and make a durable business case," Lassen said.
While New York State has set very aggressive offshore wind and timeline targets, there is every likelihood that they can be achieved. Lassen said: "Europe has outperformed itself on its targets," and, in the last few years, "the whole offshore wind narrative has changed positively. We see government increasing their offshore wind targets and construction timelines executed ahead of time, the technology has matured rapidly while players across the value chain have accumulated experience."
U.S. Idiosyncrasies
Lassen noted that many of the project developers active in U.S. are the same players that built up supply pipelines in Europe: "Technology, political targets, project pipelines and experienced developers are in place across the U.S. East Coast. The following and last piece that will have to be established is the supply chain. As the other pieces have come into place, we also expect the supply chain to follow in the coming years."
As offshore wind projects begin in the U.S. Northeast there will be some reliance on European expertise and suppliers. In the initial stages: "There is large opportunity for imports, carriers and for other European suppliers," Lassen confirmed, indicating that now is the time to build those relationships.
Imports that go straight from Europe to an offshore site on foreign-flag vessels may not require Jones Act vessels, although the intricacies and impact of cabotage policy on offshore wind is still under debate, according to Utsav Mathur, a shipping, offshore energy and global disputes lawyer based in Norton Rose Fulbright's Houston office.
Investment in more coastwise vessels, and ports, is a necessity. Domestic and foreign components delivered first to the U.S. will need Jones Act-compliant barges for transport from ports to installation vessels. And, Lassen said, a number of potential port hubs have current infrastructure restrictions that require investment.
The U.S. offshore industry is already committing to investments in installation vessels or in some sort of alliance with European installers. "The U.S. is going to see current and next-generation turbines, which set [elevated] requirements for the installation vessels. There will need to be significant investment to be competitive," Lassen said.
In the U.S. system, local content requirements will further shape the supply chain. Bids for groups of items will allow for local content on certain items, strengthening and leveraging overall bids. "Tenders are already out. Things are lining up. It is going to take off," he added.
The U.S. offshore wind industry expects to secure cost-effective offshore wind power, with scale generating economies and knowledge transfers from parallel industries. Manufacturers, transportation companies, renewable energy providers and power customers are gearing up to benefit.
Based in the U.S., Lori Musser is a veteran shipping industry writer.