---
Sep 13 | 2020
A Conversation with Jack Futcher as He Passes on the Reins at Bechtel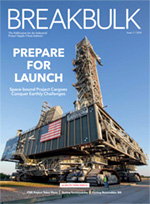 By Lori Musser
Bechtel Group Inc.'s Jack Futcher has made his mark, helping governments and industries build four decades' worth of critical infrastructure around the world.
In his own words, every project he has worked on has been "a career highlight," as has every role he has had in the company, throughout his entire 40-year career. "What drives me is all the things that I've not yet been able to get done," he tells Breakbulk in an exclusive interview.
Engineering, construction and project management behemoth Bechtel reckons it has logged 25,000 projects in 160 countries on all seven continents. In his role as president and chief operating officer, and in prior roles at Bechtel, Futcher has been a part of a great many of those projects. He plans to retire at the end of 2020, having passed on the reins as COO to Craig Albert who previously ran the company's infrastructure business unit.
Futcher serves as the company's vice chairman until the end of this year and afterwards will remain as a non-executive director on the company's board, helping to guide Bechtel's future endeavors.
Bechtel was established in 1898 and although large by any measure, Futcher says that isn't what's important: "Our goal has always been to be the best, not the biggest. Size is an outcome based on performance for our customers. When you're the best, being the biggest takes care of itself."
Futcher said a key corporate strength is that Bechtel is populated from bottom to top with high-quality people. "Bechtel leaders embody our values and culture and set great examples for ethics, integrity, fairness and excellence."
Addressing Challenges
Bechtel serves a diverse group of markets, including infrastructure; nuclear, security and environmental; oil, gas and chemicals; and mining and metal markets. There is always some oscillation in these markets, and while some are down, others are growing.
While Futcher is confident in the company's outlook, Bechtel and fellow engineering, procurement and construction companies have a lot to contend with in 2020 and beyond. "I believe the biggest challenge the EPC market and world is facing is the uncertainty around the present pandemic. How long will it last? Will a vaccine be found? When? How long will it take to administer?" Futcher said.
And while herculean efforts are underway the world over to develop a vaccine in record time, "in the meantime, we all must adjust to a new norm," he says. "This is easier said than done when it comes to our customers making huge investments in mega jobs. However, we can look at every crisis from the standpoint of opportunities, though this one is hard as so many have lost their lives over the past several months.
"From a global logistics perspective, as companies are faced with a reduced workforce, I think you will see more companies contracting out logistics instead of self-performing, which creates risk," he continues.
Traditionally, Bechtel Global Logistics, or BGL, has self-performed the marine chartering and multi-project acquisition evaluation for global freight forwarding for the entire company. "Maintaining this excellence for Bechtel will continue to be unique to the way we deliver our projects," Futcher said.
BGL, created in 1997, is large scale, with expenditures in logistics services as a portion of the US$16 billion that the company spends in procurement annually. "We have many strategic partners that offer logistics services, but our direct self-perform model ensures that in addition to cost, we put safety, schedule and predictability as priorities," Futcher said.
Having "in-house" logistics on this scale is not typical, but Bechtel's multiple business units globally have similar logistics needs, so forming BGL made sense even though it was somewhat contrary to the company's traditional decentralized approach to managing project activities.
So, instead of having every project "doing their own deals," Bechtel deploys BGL to seek economies of scale and leverage, using in-house expertise to benefit multiple projects.
This integration of BGL is an acknowledged differentiator in the EPC world. It can provide a unified and consistent approach to supporting engineering in the design phase and to delivering to construction to facilitate the installation schedule.
"Using the commercial and technical excellence of the people of BGL, our projects can focus on building complex facilities with confidence that their material and equipment will be delivered safely when needed. The projects trust BGL to address and mitigate risks through solid, long-term relationships with our carriers and various parties across the supply chain. We feel this engagement is unprecedented, providing a lot of value for our customers," Futcher said.
Growth Plans
Bechtel's core business is engineering, procurement and construction, which, Futcher said, will continue to grow and expand across the board for the company. Specific to logistics, he said that Bechtel will work to maintain its core talent during challenging times, focusing on technical excellence and commercial awareness. BGL will continue to support all its businesses and potentially expand beyond marine chartering and freight forwarding to ensure safety and quality meets its standards.
In the renewables arena, which Bechtel has been involved with for more than two decades, Futcher recognized the global shift toward cleaner energy, and made special note of the Ivanpah solar electric plant in California's Mojave Desert, which is the largest solar thermal power plant in the world. Ivanpah was designed and constructed by Bechtel and is operated by NRG Energy.
Energy outlooks may be particularly difficult this year, but Bechtel believes that both the nuclear and oil and gas industries will come back as the world navigates its way out of this pandemic. Futcher added that successfully completing Plant Vogtle will give the U.S. nuclear market the confidence that nuclear power is still a valid clean source of energy.
According to the U.S. Office of Nuclear Energy, Vogtle is the country's only nuclear construction project, and is one of the largest infrastructure projects in the U.S. The site's two new units, 3 and 4, are the first reactors to begin construction in America in more than three decades.
"We also believe the LNG market will come back as the world recovers, predominately due to the fact that it remains significantly cleaner than coal-fired power generation. We remain focused on the jobs we are contracted to deliver," Futcher added.
Sustainability as a Responsibility
Looking beyond 2020, Futcher sees sustainable projects as the future. "We view sustainability as our responsibility to enhance the positive effects of our projects where possible and avoid or mitigate the potentially negative ones. We believe that we are not just delivering a physical asset to our customers and communities, but also creating an enabling environment that will benefit them in the long term."
Bechtel's approach here is multilayered: protecting people and the environment, partnering with communities, promoting economic development, and pioneering new innovations.
"Sustainability is 'owned' primarily by our global business units and key functions and services," Futcher explains. "We empower them with technical support, resources and tools to be successful, and we share new knowledge and best practices enabling Bechtel's sustainability to evolve."
That means Bechtel's sustainability objectives do not rest with a single individual or function. The company takes a "whole-of-enterprise" approach that integrates colleagues, as well as policies, processes, procedures and programs.
"At the local levels, sustainability issues and impacts vary depending on where the project is located," he said. Whereas managing sustainability on a project is led by the project manager in close coordination with front-line managers, including engineering, procurement, construction, ES&H (environment, safety and health), and community engagement.
Futcher Style
As the pandemic evolves, Futcher said Bechtel is doing whatever it can to help its customers, which includes continued investment in its tools and execution approach. That's a formidable task, but one well-tackled by Futcher's personal management philosophy, which is guided by four tenets:
• Leadership is about humility, empathy and service to others.
• It's how you treat those that can do nothing for you that matters most.
• Manage data and lead people.
• Live by the "Golden Rule."
Futcher's management style has likely been shaped by his rise through the ranks at Bechtel. Asked for a few words of wisdom gleaned over the course of his four decades' spent at Bechtel, Futcher said, "Simple. First, think of logistics as your chosen profession and commit yourself to be the best in the profession. Second, learn at your pace and attack your learning like you did in school."
Some of that drive may carry over into retirement, as Futcher plans to get back to a single-digit handicap on the golf course and become proficient at fly fishing. But his family may see a bit more of him too: "I'll just say, in my retirement I look forward to traveling with my wife (I've been everywhere but seen nothing but jobsites) … and spending quality time with my family, especially grandkids."
Based in the U.S., Lori Musser is a veteran shipping industry writer.

Image credit: Bechtel