---
Sep 14 | 2022
Transportes Montejo Uses FTV 550 to Deliver Blades for Country's Largest Wind Farm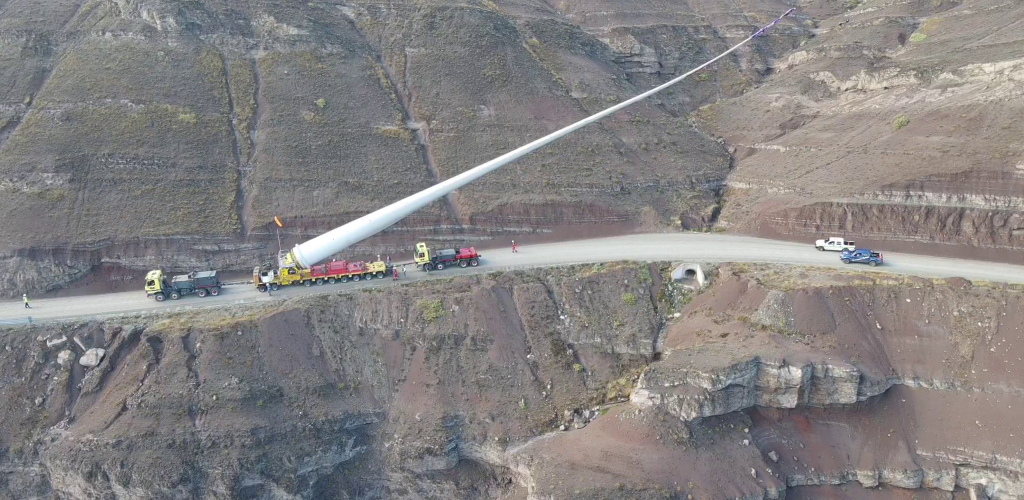 Transportes Montejo has deployed a Goldhofer FTV 550 "blade lifter" to deliver wind power components to Ecuador's largest wind farm, the 50-MW Minas de Huascachaca in southern Loja Province.
The Colombian project cargo specialist used the lifting device, mounted on the back of a Goldhofer THP/SL heavy-duty module, to carry 73-metre-long blades for a 4-MW Dongfang wind turbine being built on a plateau high up in the Andes mountains.
The blades were picked up from Ecuador's breakbulk-handling Port of Puerto Bolivar.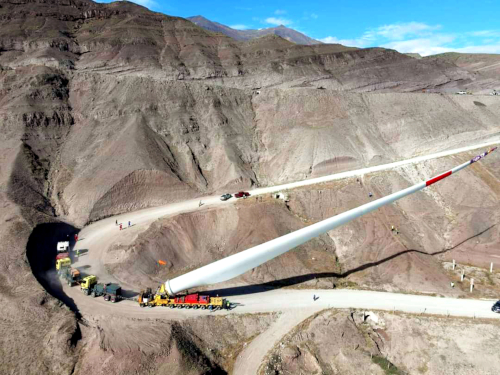 According to Goldhofer, the FTV 550 enables the blades to be freely rotated around their own axis in order to prevent wind interference during transit. The device's lift angle can also be raised to a maximum of 60 degrees, reducing the need to remove or modify roadside infrastructure.
The FTV, with its lifting capacity of 550 tonnes, is designed to carry the bulkiest of turbines, and can be combined with towed or driven heavy-duty modules.
"In such mountainous terrain, the "blade lifter" gave a convincing demonstration of its capabilities, with the Transportes Montejo crew skilfully raising and turning the blades to avoid contact with the steep slopes as the combination made its way up to the pass," Goldhofer said.
Minas de Huascachaca is being developed by Ecuador-based renewables firm Elecaustro.
The project, which boasts 14 wind turbines, is 90 percent complete, according to local media.
Transportes Montejo operates a large fleet of Goldhofer vehicles and equipment, including THP/SL heavy-duty modules, PST/SL-E self-propelled transporters with electronic multiway steering and flatbed semi-trailers for transporting wind turbine blades.
The company's main office is in the Colombian city of Tocancipá, with satellite offices in Panama and Venezuela.
Goldhofer, headquartered in Memmingen, Germany, will be exhibiting at
Breakbulk Americas 2022
, taking place on 27-29 September at the George R. Brown Convention Centre in Houston.
To reserve your tickets, click on the link below.