---
Oct 07 | 2021
Steel and Energy Cargoes Boost Outlook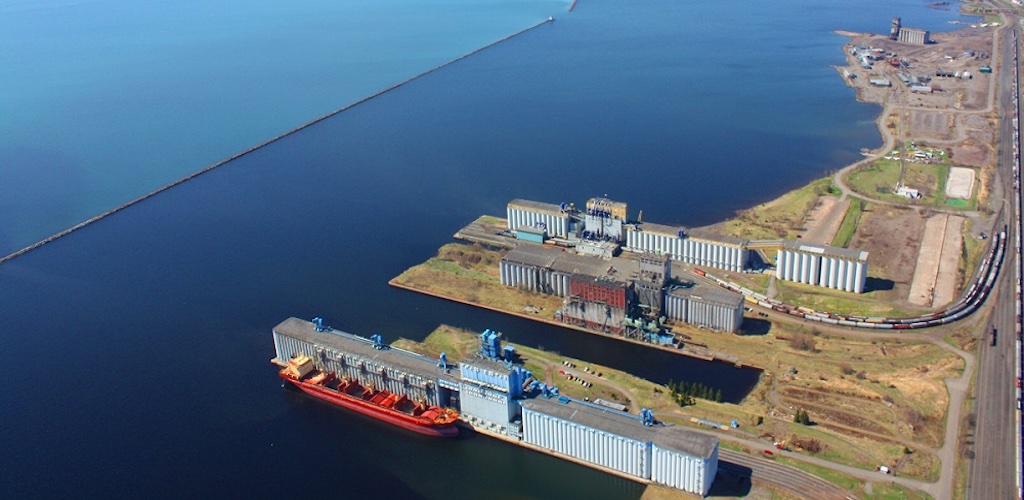 By Malcolm Ramsay

As congestion at ports along the U.S. East and West coasts continues to build, the outlook for project cargo shipping in the Great Lakes is booming, with the St. Lawrence Seaway System reporting growing demand for energy and steel cargoes.

The Great Lakes Seaway Partnership posted a 5.2 percent increase in year-on-year cargo throughput for the St. Lawrence Seaway System, from the opening of the Seaway on March 22 through August 31. Chris Heikkinen, director of business development for the Thunder Bay Port Authority, said that while numerous projects were put on hold last year due to the pandemic demand, demand has bounced back robustly this year, telling Breakbulk that "steel imports at the port have grown steadily [and] this cargo continues to present growth potential."

Located on the northwest shore of Lake Superior in Canada, the port of Thunder Bay has traditionally been a hub for grain shipping, but has seen demand for breakbulk cargo handling rise steeply in recent years due to its strategic location at the head of the Great Lakes-St. Lawrence Seaway System, acting as the first, or last, stop for marine transport connecting Western Canada and Europe.

Robust Growth
Craig H. Middlebrook, deputy administrator for the Great Lakes St. Lawrence Seaway Development Corp. (SLSDC) also sees steel as central to the recovery story, stating: "At the midpoint of the Seaway's navigation season, iron ore and steel products continue to be the standout commodities moving through the Great Lakes Seaway System."

"Multiple vessels loaded with an array of steel products from over a dozen different countries arrived at U.S. Great Lakes ports in August, while iron ore exports to high demand countries including China, Japan, and South Korea saw a 29 percent tonnage increase compared to this time last year."

The SLSDC reports that the Great Lakes-St. Lawrence Seaway System handled 20.7 million tonnes of cargo till the end of August, up from 19.7 million tonnes in 2020. This was partly driven by a rise in transits on the waterway, with a total of 2,146 vessels recorded for 2021, as opposed to 2,051 last year.

Of the various cargoes transported, Iron and Steel posted the largest growth, almost doubling from 645,000 tonnes in 2020 to nearly 1.3 million tonnes this year. Iron Ore accounted for the largest volume with, 4.6 million tonnes transported in 2021, a rise of 29.3 percent.


Wind power demand

Alongside growth in steel cargoes, renewed demand for wind power equipment is also underpinning recovery for St Lawrence seaway ports. Heikkinen of Thunderbay notes an ever-increasing appetite for windfarm project cargo destined for Western Canada, "particularly for dimensional loads that cannot be transported through alternative routes such as the Rockies."

Fellow Canadian project cargo specialist Pinnacle Logistics Solutions also see a bright outlook for regional wind power with Aaron Gerber, vice president at the firm, noting that the Great Lakes-St. Lawrence Seaway System is currently "underutilized" for project cargo in the renewables sector and predicting significant upside for growth as a result.

"The global pandemic has made it especially important to navigate transportation challenges by thinking outside-of-the-box," Greber comments.

Greber sees renewable energy as a particularly positive segment, as both wind and solar energy are already 'proving to be viable technologies' in Western Canada. Based in Cambridge, in the southwest of Ontario, Pinnacle is one of a growing number of small project cargo firms that are springing up around the Great Lakes to take advantage of growing demand for bespoke wind and solar project developments.


Enhanced Capabilities

To meet this demand the Thunder Bay Port Authority has invested US$15 million in a comprehensive upgrade of its Keefer terminal on Lakehead Harbour. Work began on the terminal upgrade project in 2018, with construction finally completed last year, and since then added project cargo capabilities and improved rail connections to Western Canada have greatly improved handling. Capacity and allowed the port to capitalize on growing breakbulk demand across the seaway system.

"In 2020, the Port completed a US$15 million reconfiguration of its general cargo terminal, enhancing rail and reconfiguring the railyard, expanding cargo laydown, and increasing heated storage space by 50,000 square feet," Heikkinen said.

The port received contributions for the reconfiguration project from the National Trade Corridors Fund and the Northern Ontario Heritage Fund Corp., and Heikkinen see this as part of ongoing strategic capital investments to provide world-class facilities and assets, not only expanding throughput capacity but extending the range and complexity of cargoes that the port and the region can service.

It is hoped that these additional capabilities will also help to drive forwarders to switch away from congested ports on the East and West coasts and move greater volumes via the inland seaway system.

"The Port of Thunder Bay does not have congestion issues," Heikkinen said. "Available capacity is enabling the port to capitalize on new cargo opportunities as shippers seek solutions to congested supply chains.