---
Oct 07 | 2021
Bill 'Chocked Full of Really Good Money … Really Bad Politics'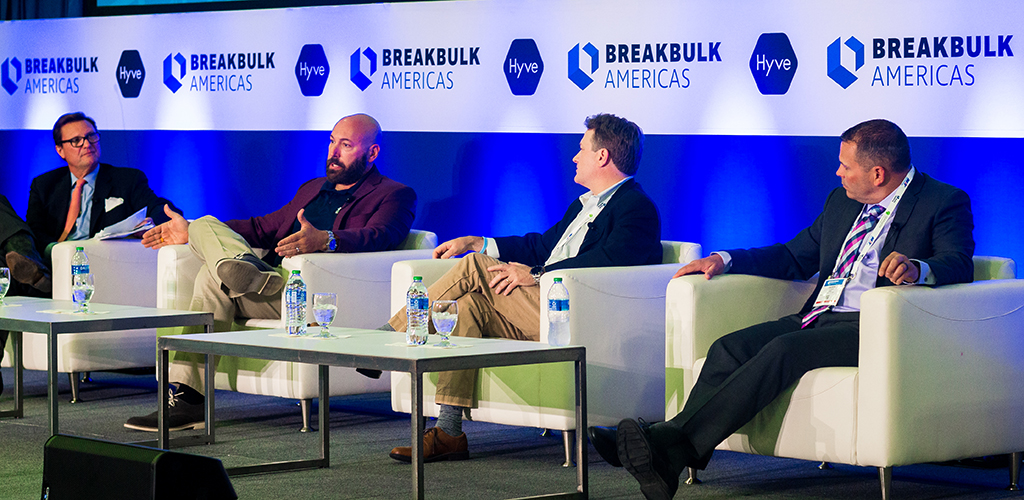 By Lori Musser
Infrastructure funding can't come soon enough for the transportation and logistics industry. But as par for the course within the Beltway, politics and unenlightened efforts thwart the best of plans, executives mused during an infrastructure panel at Breakbulk Americas 2021.
The roughly US$1 trillion Infrastructure Investment and Jobs (IIJA) Act, already approved by the Senate but mired in the House by in-fighting, would include US$550 billion in new federal investment, of which about US$274 billion would go to the U.S. Department of Transportation.
Martin Whitmer, partner with Whitmer & Worrall LLC, in his opening remarks the biggest infrastructure bill ever proposed was "chocked full of really good money, really good policies, really bad politics."
"It's great that we have an infrastructure bill that makes sense. It's great that we've got a dialogue," said Jeff Tucker, CEO of Tucker Company Worldwide. But he questioned the depth of understanding of supply chain in Washington and suggested enhanced educational efforts by industry.
Tucker emphasized that infrastructure, while critical, isn't the only solution needed for supply chain improvement. It needs to be supported by, for example, efficiency and workforce initiatives. Tucker said, "ATA has been publishing driver shortages for 30 years." Even with a million new truckers, and lowering the age for commercial licenses to 18, those shortages continue.
Spenser Murphy, general counsel and vice president of risk management at Canal Barge, said the nation needs to invest more in priority transportation infrastructure of all types or risk inconvenience, delays and even tragedy.
Murphy mentioned that he was once involved with a study to determine how many rivets can be missing from a bridge and still be functional. "We need really strong infrastructure – good bridges with all the damn rivets where they are supposed to be."
Murphy and Andrew Gardner, president of supply network at Kewitt, both said earmarks may have a role in future infrastructure initiatives. "How can they set an amount of money without a plan on how to spend it?" said asked.
Murphy said that rather than targeting infrastructure funding to complete key projects, funds instead are doled out to hundreds of districts so that everyone gets funding, but nothing ever gets done.
Gardner said the infrastructure bill will help fix a lot of supply chain issues. He suggested more capacity might stop large companies in containerized trades from chartering ships out from under the breakbulk and heavy-lift industries, thereby allowing project developers to procure with a bit more schedule and pricing certainty than they've had recently.
There may be solutions related to reining in railroads, according to Tucker, a third-generation trucking executive. "I've watched the railroads interfere with trucks trying to handle more weight. They will fight every productivity improvement – more weight, additional axles – maybe we wouldn't need all those drivers if we allowed slightly heavier vehicles or other [productivity] improvements," he said.
The Biden Administration is by all accounts determined to invest heavily in U.S. transportation, but the investments are some years away. In the meantime, breakbulk and project cargo industry solutions that expand capacity and create efficiencies are in high demand.
Inland Waterways
Murphy said the inland waterways industry hopes the infrastructure bill comes through for the roughly US$2.5 billion proposed to invest in critical but aging inland waterway infrastructure. The money is needed because, "anything that doesn't move by water moves by truck or rail," which will exacerbate the congestion currently permeating U.S. supply chains.
"Economically, moving cargo by water has the best carbon footprint," said Murphy, a fact that should help attract funding toward a prioritized backlog estimated at 20 to 25 essential inland waterway projects.
Gardner said that while inland waterways may not be top of mind for all states, he underscored their importance for projects and said Kiewit tries to leverage them on every project possible, to help "control safety, productivity, quality, and minimize schedule and workforces at job site."
The new infrastructure bill is likely to aggravate already high demand and pricing for steel, depending of course on Buy American requirements, quotas, supply and other factors. Going forward, Gardner said, "Being able to lock in pricing on [steel] shipments will continue to be a challenge."