---
Jun 14 | 2022
Shipments from Singapore Include 1,535-Tonne Absorbers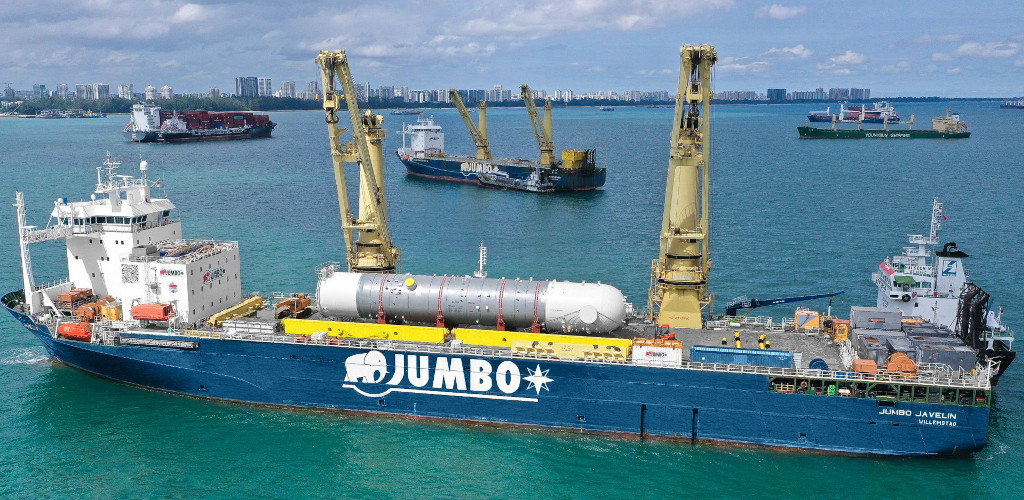 The Jumbo-SAL-Alliance has deployed its heavy-lift vessel Jumbo Javelin to ship two, 1,535-tonne absorbers from Singapore to the North Field East liquified natural gas expansion project in Qatar.

The move is for long-term client Chiyoda Corporation, a Japanese-based engineering company who, alongside partner Technip Energies, was awarded a major EPCC contract in early 2021 by state-owned QatarEnergy for the NFE's onshore facilities.

The contract calls for the delivery of four mega-trains with a capacity of 8 million tonnes per year of LNG, as well as associated plants for gas treatment, natural gas liquids recovery, helium extraction and refining at Ras Laffan Industrial City.

The absorbers carried by the Jumbo Javelin were well within the vessel's lifting capacity of 1,800 tonnes.

"While this cargo is large and ultra-heavy, our Jumbo Javelin, and more ships within our fleet, are perfectly suited to lifting heavy absorbers, and thanks to meticulous planning loading this cargo was just another day for our crew," the company said in a statement.

North Field is the largest LNG venture in the world, located some 80 kilometres north of capital city Doha. The NFE constitutes the project's first stage, which is expected to boost Qatar's LNG capacity by 43 percent to 110 million tonnes per year.

A second LNG stage, North Field South, or NFS, is calling for the installation of another two mega-trains that will increase output further to 126 million tonnes per year by 2027.

The project, which is using natural gas feedstock from the 6,000-square-kilometre North Field reservoir off the northeast coast of Qatar, is one of the largest sources of cargo-carrying contracts in the GCC region.