---
Jun 27 | 2022
US Ports Welcome Back Breakbulk and Project Cargo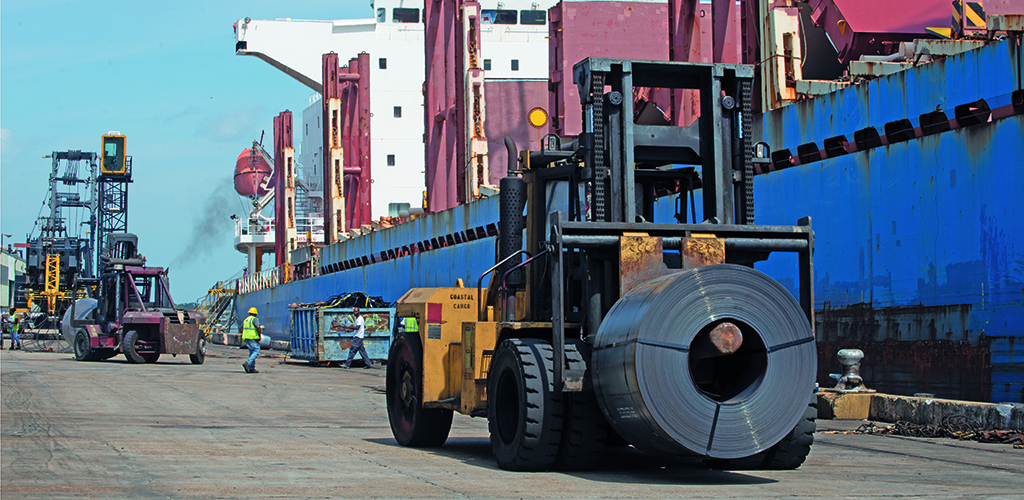 By Lori Musser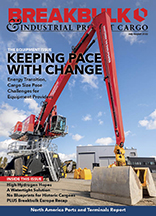 For U.S. ports and terminals that watched their spacious laydown yards lie fallow for a few years, a return of some project cargo and high volumes of breakbulk has been a welcome sight.

Business at over-dimensional cargo terminals is brisk, but may be somewhat distorted due to overspill from container markets – with containers carried on multipurpose vessels and moving through non-containerized yards.

Other spillover cargo includes products, such as plywood, which may have moved via container in recent years but have switched back to breakbulk now that containers are at a premium.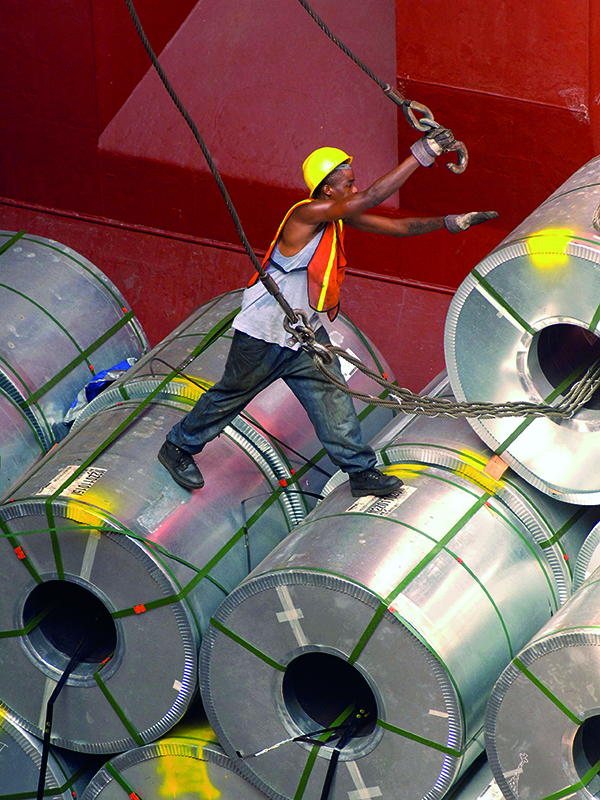 Jessica Ragusa, communications manager at the Port of New Orleans, said New Orleans has taken steps to position itself as an alternative gateway during supply chain disruptions: "Many shippers have turned to breakbulk shipping solutions at Port NOLA due to global container equipment shortages and current market dynamics."

At the Alabama State Port Authority's Port of Mobile too, "soaring containerized cargo rates, and to some degree, congestion at East and West coasts ports, have shippers rethinking supply chains. We have seen [some] shippers shift from containers back to general cargo carriage," said Judith Adams, vice president of internal and external affairs.

Some growth is simply driven by America's pent-up demand as the pandemic eases. Construction markets and infrastructure projects are making headlines. The Biden Administration has committed to a five-year game of catch-up, as laid out in its new infrastructure law.

Adams said the federal government will be driving consumption for iron, steel, non-ferrous metals, energy components and timber for years as federal funding flows into public infrastructure projects.

The rise of super sacks may also give general cargo a boost. For rice, resins, cement and other products – that might alternatively move loose as bulk or in small packages for containerization – super sacks can be an eco-friendly option (less packaging than container, less waste than bulk) for niche markets.

The global energy transition is also an important driver, according to Lisa Ashley-Daniels, director of public relations for Port Houston. She anticipates project cargo will be kindled by renewable energy for at least a decade.


Keeping Ahead of Population

Wade Elliott, vice president of business development at Port Tampa Bay, said the port's breakbulk volume rose 131 percent for the first six months of FY2022, reaching 365,000 tons. This includes a 110 percent increase in steel, totaling 235,000 tons, and a 180 percent increase in lumber, up to 66,000 tons.

Other significant and growing breakbulk commodities include bagged cement, racking for solar panel installations, bagged resins, and fresh produce. Elliott said that the primary factor fueling the increase is Florida's continued population growth. At 22 million residents, Florida ranks third in the nation; the Tampa Bay/Orlando I-4 Corridor is the fastest growing region of the state.

"The red-hot local real estate market is fueling demand for construction and building materials. Also the availability of competitive northbound backhaul trucking capacity (rates are typically 50 percent less than southbound) allows us to reach customers in Georgia and the Carolinas, in addition to our core Florida market," Elliott said.
Meanwhile, steel is ramping up at Port Houston. In 2021, it handled 3.37 million tons of steel, up almost 50 percent over 2020 tonnage. Steel volumes for April 2022 year-to-date were up 106 percent.

Other non-containerized general cargoes were even more prolific, almost doubling to 1.39 million tons in 2021.

Much of the port's project cargo has historically been linked to the oil and gas industry. However, moving forward, port cargo growth is expected to mirror progress in alternative energy industries. In 2021, the port handled wind and solar energy components.

To keep up with general cargo growth, Ashley-Daniels said: "The port continues its investments … It is adding yard space, opening additional gates, widening road access to facilities and developing the workforce pipeline."

"The US$1 billion Houston Ship Channel deepening and widening program, called Project 11, remains on track," Ashley-Daniels said.

Port Houston also announced a goal to be carbon neutral in 30 years, by upgrading technology, improving infrastructure and equipment, and utilizing alternative fuels and clean energy sources.


Mobile's Multiple Drivers

The Port of Mobile is well-positioned with two interstate systems, five Class I and three regional railroads, and 2,000 miles of inland and intracoastal waterway connections.

In calendar year 2021, its non-containerized general cargo volumes reached 6.59 million tons, up 21 percent over 2020 tonnage.

The cargo was mostly metals. "The Port of Mobile is considered the second-largest iron/steel port in the country behind Houston," Adams said. In 2021, public seaport terminals handled nearly 6 million short tons, showing a 20 percent gain.

Forest products grew 14 percent in 2021 to 1.33 million tons. The port handles a variety of products, including lumber, baled and rolled pulp, KLB, newsprint/paper, timber and plywood.

"Our forestry and steel products sector is hot," Adams said, citing domestic and international demand for products that support infrastructure development and industrial construction, and housing market demand, as major drivers.

Mobile's wind energy cargo has also grown, driven by improved "costs and performance of wind technologies," coupled with production tax credits, Adams said.

The region's burgeoning aerospace industry continues to drive over-dimensional port cargoes, such as fuselage, wings and tail sections. Airbus just announced a 350,000-square-foot expansion to ramp up global production of A320 jets at its billion-dollar Mobile production facility.


South Louisiana Supports Transition

The Port of South Louisiana handled 229 million tons of cargo via 3,160 vessels and 55,284 barges in 2021. The cargo included more than a million tons of import/export steel, largely from India and Brazil, and another 3.6 million tons of domestic steel movements.

Paul Matthews, the port's CEO, sees room for steel growth related to continued regional infrastructure development that will require breakbulk and project cargo.

The port's general cargo facility at Globalplex terminal is undergoing upgrades that include two new high-capacity harbor cranes, warehouse improvements, and construction of a second access bridge. "The bridge will create efficiencies and allow us to triple truck throughput," Matthews said. He anticipated project completion in the second quarter of 2023.

The port also plans on future wind energy cargo. Louisiana's governor is bullish on climate action, proposing five gigawatts of offshore wind power generation by 2035.

"We see opportunity in energy transition," Matthews said. "We applied for a Build Back Better grant to allow for eMethanol liquid bulk," he said, noting that tugs and vessels operating under new energy will make an important carbon emission difference given their sheer number.

The Georgia Ports Authority, or GPA, handles iron and steel, machinery, forest products, rubber, boats, vehicles and animal feed.

Bobby Keel, GPA regional sales manager, reported for the fiscal year to date (July-April), GPA handled 2.5 million tons of breakbulk cargo, a nearly 15 percent increase. The trade is two-thirds imports.

"Mayor's Point Terminal in Brunswick has seen phenomenal growth in export forest products to Europe. Wood pulp and linerboard have grown from 25,000 tons through April last fiscal year to 154,000 over the same period this year," Keel said. It offers a 1,750-foot berth and direct CSX and Norfolk Southern rail service. Warehouse space at Mayor's Point currently totals 355,000 square feet, although a pending replacement will increase that number by 50,000 square feet.

Ocean Terminal in Savannah has also seen strong growth across commodities, with a particularly large jump in import steel from Korea and Europe. Steel rose more than 54 percent to 396,000 tons through April.

Much of the increase in breakbulk is related to container pricing and the lower cost of breakbulk movement, as well as having capacity in Brunswick to take on additional trade, Keel said.

The port is in the process of adding 400,000 square feet of storage space at its roll on/roll off facility at Colonel's Island Terminal in Brunswick, which serves vehicle and heavy machinery trades.


Baltimore's Inland Access

The Port of Baltimore is located within the nation's third-largest consumer market. It handles forest products, steel and various metals, and other breakbulk and project cargoes.

The port's East Coast "inland" advantage is its location, which provides a shorter routing to the Midwest and beyond.

In the first quarter of 2022, Baltimore logged 237,000 tons of breakbulk and project cargo, up 23 percent over the first quarter 2021. Paper products are booming, led by a new contract with Finland's Metsä Group to consolidate the company's mid-Atlantic volumes through Baltimore.

Industrial and agricultural machinery are also important cargoes; global leader CNH Industrial ships up to 4,000 units annually from Baltimore, according to the port.

Improvements to the port's Dundalk Marine and Fairfield terminals will strengthen berths to better accommodate the increasing size of heavy machinery and project cargo.

Many breakbulk and project cargo berths, yards and warehouses are full again, however, with multiple overlapping factors driving the surge, circumspection seems a good idea.

The construction boom looks like it will be around for a while, and energy transition cargoes undoubtedly will, so U.S. ports and terminals are investing in breakbulk and project cargo facilities. For now, the pedal is to the metal, but the longevity of the surge is unpredictable.

Based in the U.S., Lori Musser is a veteran shipping industry writer.

Photo 1: Steel was the lead commodity for Port NOLA in 2021. Credit: Port of New Orleans
Photo 2: A longshoreman works in the hold of a steel shipment at Port of South Louisiana's Globalplex. Credit: Port of South Louisiana