---
Sep 11 | 2020
Space-bound Project Cargoes Conquer Earthly Challenges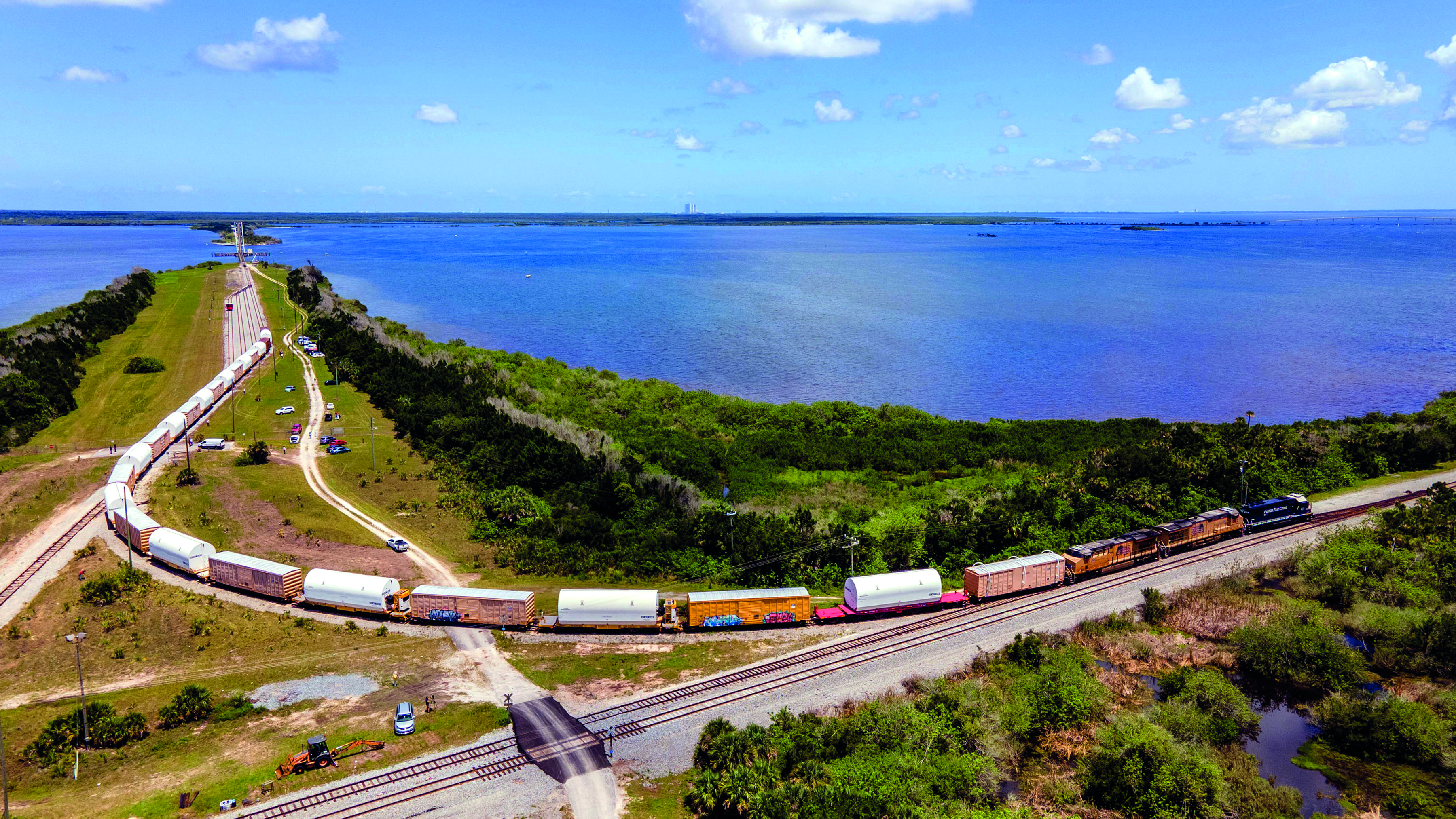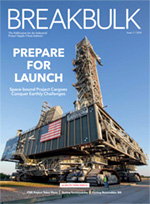 By Paul Scott Abbott
Every "3-2-1-liftoff" requires what might be termed the "6-5-4" – the intensive process of getting ponderous space-bound project cargoes safely to the launch pad.
While technically not itself rocket science, the earthly transport of launch system boosters and other oversize units destined for space entails its own set of challenges, requiring rigorous planning and close collaboration.
From a custom-fitted barge and Super Guppy aircraft to specially suited trains and trucks to a slow-speed Crawler transporter, myriad modes are engaged in getting hefty project cargoes on their way to liftoff from the U.S. National Aeronautics and Space Administration's Kennedy Space Center, or KSC, on Florida's Atlantic Coast.
As NASA advances toward landing the first woman and next man on the moon by 2024, with longer-term sights set on Mars, while International Space Station activity heats up as well, space-related cargo moves are becoming increasingly frequent right here on planet Earth.
"At NASA, transportation constraints are built into our design processes for flight hardware from the beginning," Jay Green, NASA's logistics manager based at KSC, told Breakbulk. "Whether it's the clearance of a railroad bridge or the lifting capacity of a launch vehicle, most of our flight hardware has some sort of transportation challenge that has to be addressed early on in the design process."
Designs often require working within functionalities of existing systems and, when necessary, building new capabilities to augment tried-and-true transport equipment, according to Green.
Barge Lengthened
"NASA's Artemis program is providing new transportation challenges," Green said. For example, the core stage for the new super-heavy-lift Space Launch System, or SLS, was too long and heavy to be transported using NASA's Pegasus barge that was deployed for delivery for the Space Shuttle external tank. Therefore, the barge was cut apart and rebuilt to accommodate the requirements of the core stage for NASA's Artemis program, which is to get off the ground in 2021 with the unmanned Artemis I mission before eventually delivering astronauts to the moon in 2024.
Continuing NASA's longstanding deployment of barges for transport of large spaceflight structures, the original Pegasus barge was built in 1999 to bring the giant external tanks for Space Shuttle launches to KSC from NASA's Michoud Assembly Facility in New Orleans – a 900-mile journey along inland and open-ocean waterways.
The 212-foot-tall, 27.6-foot-diameter SLS core stage, including cryogenic liquid hydrogen and liquid oxygen tanks for feeding four RS-25 rocket engines, represents the longest item ever shipped via a NASA barge. To accommodate its horizontal transport, the Pegasus barge has been extended to 310 feet – about the length of a football field.
The Pegasus modification involved replacing a 115-foot-long segment of the barge with a 165-foot section. The work was done by crews at Conrad Shipyard in Morgan City, Louisiana, utilizing naval architecture expertise from the U.S. Army Corps of Engineers Marine Design Center in Philadelphia and Bristol Harbor Group of Bristol, Rhode Island.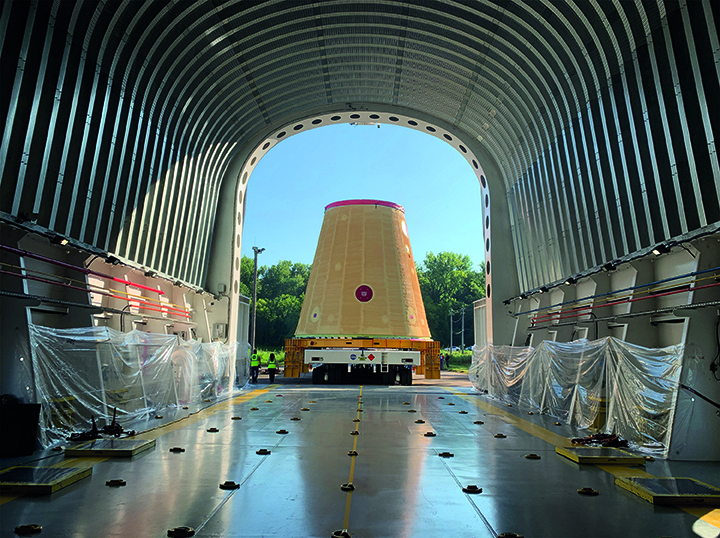 In fall 2019, the refurbished barge made its first delivery to KSC – a 114-ton mockup of the SLS core stage being used in practice maneuvers by NASA and contractor Jacobs Engineering Group. The trip included stops for testing at NASA's Marshall Space Flight Center in Huntsville, Alabama, and NASA's Stennis Space Center near Bay St. Louis, Mississippi. In late July, another Artemis shipment arrived at KSC via barge from Huntsville, this one being a cone-shaped connector known as a launch vehicle stage adapter.
Green pointed out that distances between engaged sites adds to the complexity of logistics.
"One of the issues that we face here at the Kennedy Space Center is that NASA centers, international partners and the aerospace contractors who build much of our hardware are geographically dispersed," Green said.
"Parts and major components of the final product have to be transported from all over the globe before arriving at the launch site for final assembly and integration with the launch vehicle."
Rocket Train Deployed
NASA's major Artemis contractors include Northrop Grumman, which has supplied rocket propulsion dating back to the Apollo program that began in the 1960s. The first segments for rocket boosters to be used for Artemis missions arrived at KSC in June from Northrop Grumman's manufacturing facility in Promontory, Utah.
Northrop Grumman supply chain logistics specialist Jeff Bitner said the so-called Rocket Train used to get the SLS boosters from Utah to KSC is essentially the same rail conveyance that has been deployed for 30 years in transporting flight-ready Space Shuttle booster segments to Florida and returning spent segments to Utah for refurbishment.
"We transport the boosters the same way we have for three decades," said Bitner, who noted that the 2,800-mile journey from Utah to Florida takes 10 days. "The train is closely monitored by crew each step of the way."
The Rocket Train consists of 21 railcars, including 10 spacer boxcars, and two Union Pacific Railroad locomotives that have undergone extensive preparations to ship the booster segments, each of which weighs about 180 tons and measures more than 12 feet in diameter, with segments ranging in length from 27 feet to 32 feet. Each SLS booster is made up of five segments, and each segment has its own railcar equipped with trackers and alarms, with each section encapsulated in a clamshell covering to help ensure booster safety.
Three railroads took part in the transit, with Union Pacific leading the way as far as Memphis, where Norfolk Southern took the lead to Jacksonville, Florida, from which a Florida East Coast Railway locomotive headed the train to turnover to NASA at Titusville, Florida.
Following assembly and placement of the SLS on the mobile launcher at KSC's iconic Vehicle Assembly Building, the mammoth unit is to be moved to the launch pad on the back of another piece of specialized transportation hardware, NASA's Crawler transporter. KSC has relied on Crawler machines for last-mile transport since the 1960s, and, in preparation for Artemis launches, one of the two such behemoths at KSC has been upgraded to enhance load-bearing capabilities on a platform the size of a baseball field.
Crawler Inches On
NASA's Green described the CT-2 Crawler as a "beast," referencing its own 3,000-ton weight, adding that the combined weight of the Crawler and its Artemis SLS cargo is anticipated to top 10,000 tons, to move at the "blistering speed of 1 mph" on the 4.2-mile trip to the pad.
Another venerable NASA vehicle dating back to the 1960s being deployed in its latest iteration to transport Artemis cargoes is the agency's Super Guppy aircraft. The most recent version of the whale-shaped cargo airplane is the fifth in a series of modified Boeing B377s to carry the Super Guppy moniker. The turboprop plane boasts ability to carry as many as 36 tons, taken on and off the craft via a hinged foldaway nose.
In March, the Orion spacecraft that is to top the Artemis I rocket arrived at KSC via Super Guppy following environmental testing at NASA's Plum Brook Station in Sandusky, Ohio. The Orion spacecraft, still encapsulated in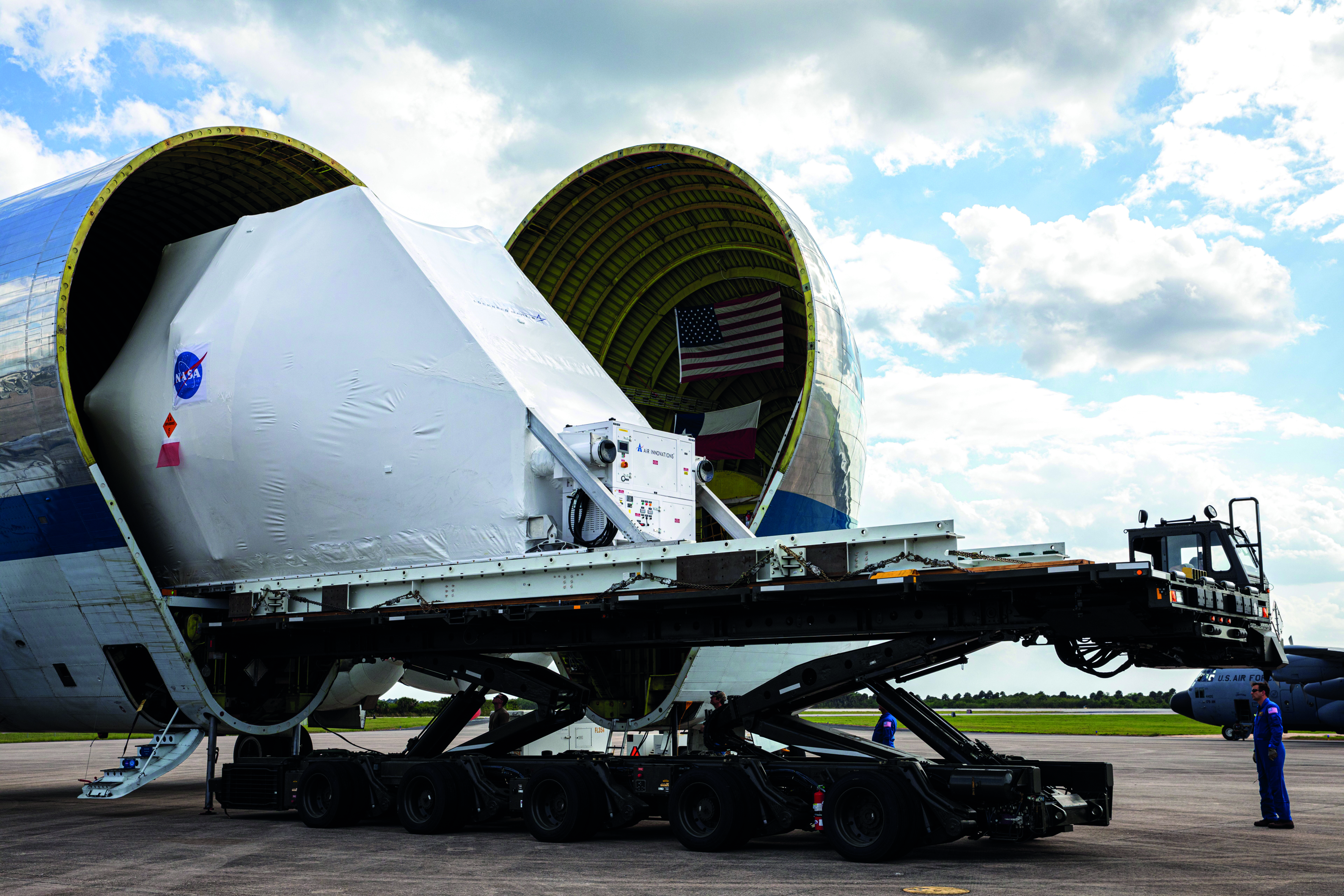 a protective container, then was transported by way of specialized flatbed truck to the Neil Armstrong Operations and Checkout Building, where it is undergoing final testing and assembly.
Over-the-road trucks also are part of the mix of modes delivering Artemis cargo to KSC.
The launch abort motor for the Artemis II crewed mission, enclosed in its shipping container, arrived at KSC by truck in April. The critical piece of hardware was trucked from Northrop Grumman's facility in Promontory, Utah.
The motor is part of Orion's safety-focused emergency Launch Abort System, designed and built by NASA and Lockheed Martin.
Lockheed Martin Space's program communicator, Chris Pettigrew, said earthly logistics for space-bound elements typically involve a year or more of advance planning, including development of backup plans, yet the imperative transport of these high-value, sensitive, bulky cargoes to the launch pad tends to be overlooked by casual observers.
"People definitely take for granted what it takes to get everything to that point," Pettigrew said, citing surveys of bridge clearances and securing of permits for truck transits alone, plus the need for units to remain in pristine environments when they move from assembly clean rooms. "There's a lot of coordination and planning involved, and it is an ongoing process, with so many more launches today, just about every week it seems."
Without meticulously planned, highly collaborative efforts and a broad spectrum of specialized conveyance vehicles to get all the essential cumbersome cargoes to launch facilities, it simply wouldn't be possible for those engaged in the space race to pronounce that, indeed, all systems are go.
A professional journalist for nearly 50 years, U.S.-based Paul Scott Abbott has focused on transportation topics since the late 1980s.

Image credit: Northrop Grumman