---
Jan 23 | 2023
Turkey-Based Polyester Maker Planning Series of World-Scale Construction Projects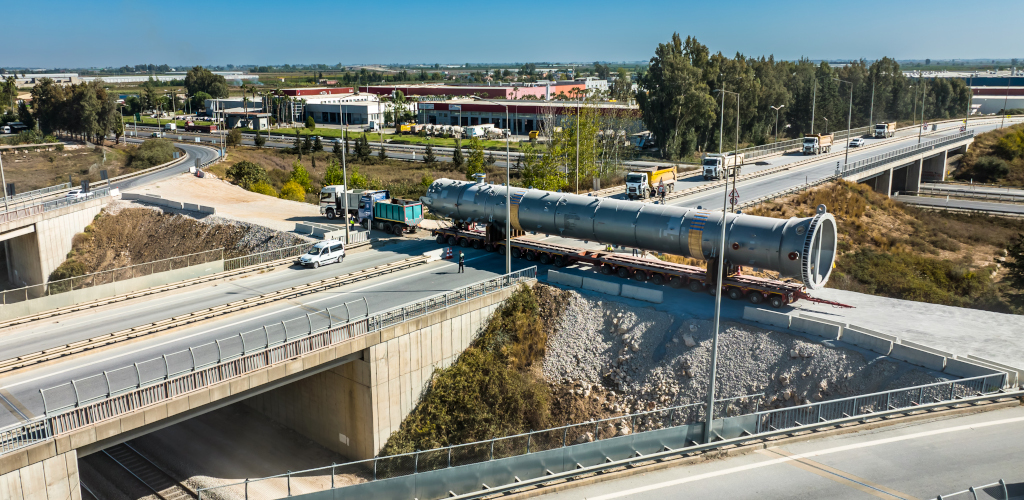 Polyester maker Sasa's ambitious investment drive to boost petrochemical production in southern Turkey is opening up massive cargo-carrying opportunities for breakbulk and project logistics.

Sasa, one of Europe's largest producers of polyester, fibre, filament yarn, polyester-based polymers, specialty polymers and intermediates, is currently building a 1.5 million tonne per year purified terephthalic acid, or PTA, plant on a 400,000 square-metre plot next to its existing production facilities in the city of Adana.

The project is slated for start-up this year.

About 75 percent of the facility's PTA output will be used as feedstock for Sasa's own polyester plants, with the remainder earmarked for export.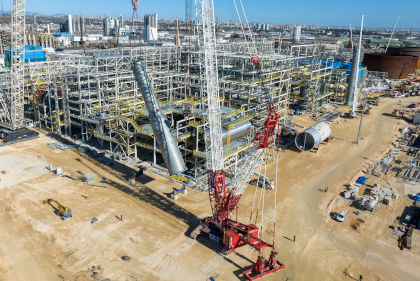 Since construction work began in 2020, the US$1.3 billion project has called for the shipment of dozens of oversized industrial components, including some of the heaviest project cargo ever carried on Turkey's public roads.

"The largest units – a 650-tonne, 13-metre diameter reactor and a 670-tonne, 50-metre column – are expected to hit Turkish shores in mid-February," Ugur Celikoglu, project logistics executive at Sasa, told Breakbulk.

The components are arriving at the southern Port of Mersin, Turkey's main gateway to the Mediterranean Sea and one of the country's largest handlers of container cargo. From there, the units will be transported some 56 kilometres by road to the project site.

"Normally such factories and facilities are constructed by the sea, so investors make their own jetties or berths and receive all these kinds of equipment by barge. But we had to construct this project in the city with no river or sea connection, so there was no way to transport it by ship or barge up to the jobsite," Celikoglu said.

"Because of this, we carried out feasibility studies, route surveys and research into the logistics and construction markets to ensure safe delivery of those units. Once that was completed, we decided to use public roads, which has created big challenges for the heavy-lift onshore stage."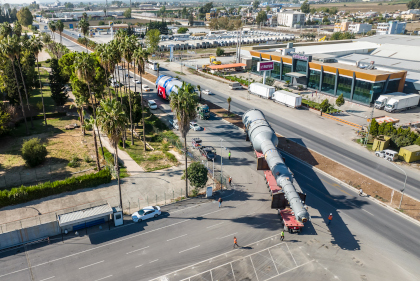 According to the executive, the project has had to contend with more than 300 obstacles along the route, including overhead bridges, underpasses, traffic lights, pedestrian walkways and cables.

To overcome these challenges, bypass roads have been built next to bridges while 120 powerlines that supply electricity to 71,000 consumers have been temporarily shut down along the route. Operations have been carried out during daylight hours due to local health and safety legislation.

"This has caused quite a bit of chaos due to traffic jams along the project route, which has 60,000 vehicles on the road every day," he said.

The project's final cargo – a 320-tonne reactor – is slated to arrive in March, with start-up of the PTA plant's first processing units expected shortly after.

After that, Sasa will turn its attention to other construction projects including production facilities for polypropylene, propane dehydrogenation, aromatics, another two PTA plants and an oil refinery complex that will be installed on 10 million square metres of coastal land in Adana and the town of Yumurtalik.

The company is also planning to build a 2.5-million TEU-capacity port at Yumurtalik, with the project currently in its configuration and design stage.

"In total, we are expecting to invest in these projects about US$20 billion," Celikoglu said.

Sasa has recently joined the Breakbulk Global Shipper Network, a worldwide group of shippers involved in the engineering, manufacturing and production of project cargo.

MAIN PHOTO: transporting components for Sasa's PTA plant.
INSERT 1: Sasa's PTA plant, with start-up expected in 2023.
INSERT 2: navigating the route between Mersin and Adana.
CREDIT: Sasa