---
Nov 12 | 2021
CEO Responsible for Industry Success Story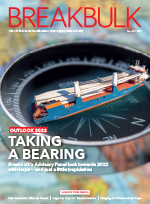 By Lori Musser
Following in the footsteps of his father and grandfather before him, Thomas B. Crowley Jr. is a champion of progress for the maritime industry and kindred sectors.
Since 1994 – 102 years after the company was founded by his grandfather with a lone rowboat – Crowley has served as CEO and chairman of Crowley Maritime Corp. He hasn't been idle. The scope and scale of the company today are a far cry from a single Whitehall rowboat on San Francisco Bay, but the same level of energy and vision that jumpstarted the company all those years ago appears to be alive and well today.
In the last 27 years, Crowley has overseen an evolution which is one of the great success stories in maritime transportation and logistics. Diversification appears to have largely spared the company from the incredible vagaries of the marine sectors in the last decade or two. Today, the company's four global business units include Crowley Logistics, Crowley (Government) Solutions, Crowley Shipping and Crowley Fuels. Headquartered in Jacksonville, Florida, the company is one of Florida's largest employers and earns revenue in the range of US$2.5 billion each year.
Tom Crowley projects a friendly, open, focused presence. After only a few minutes of conversation, his vast knowledge of all things maritime and his interest in symbiotic initiatives comes shining through. Perhaps that is to be expected of a CEO who was raised in the business. He recalled with pleasure visits to shipyards and tugboats as a child, followed by his first part-time job in the company as a high schooler.
Crowley serves as a chief executive of the four business units in different geographical areas and in different business segments. He said he focuses on "building a good strong team, good communications, and leveraging technology." Agility is critical in his scope of business, and so he takes time to cultivate an agile attitude – "We have to be receptive to customers' needs" – and a positive culture that permeates all activities.
Making Connections
Tom Crowley said his favorite part of the job is connecting with people within his organization – mechanics, truck drivers, mariners, office staff. "It gives me better perspective," he said.
He described his management style as adaptable, which has likely served the company well during the Covid-19 era. "The amount of change that has occurred is significant. Some people say we lost a year. I say that we gained five to 10 in deploying technology and changing the way in which we work, in many aspects for the better." He then cautioned there would be some catchup needed to keep culture intact and talent engaged in this new era, "but I think the effectiveness of our team and people has leapfrogged."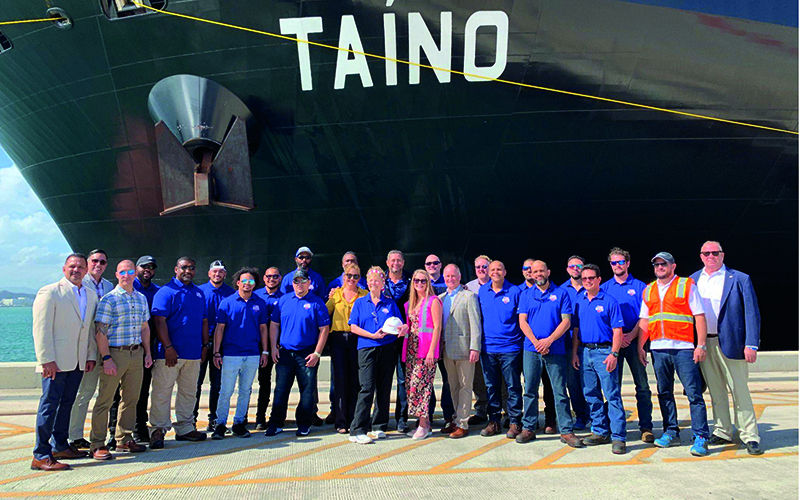 Crowley described his team as having a "get it done" approach. "Employees have a lot of pride in the company. They go after challenges," he said. Family and employee ownership are a hallmark of Crowley Maritime, and quite possibly one of the main secrets to its success. Crowley is quick to credit his team for achievements large and small, for dedication and commitment, and even for their altruistic endeavors.
The company has numerous programs that channel its good corporate citizenship. Its Crowley Cares initiative has done everything from painting an orphanage in Central America to donating and distributing food to veterans-in-need to raising awareness for health and wellness through American Heart Association events. Crowley Cares programs are employee-driven, fostering change in the communities the corporation serves, Crowley said.
The company sees great value in diversity. "For us, it is starting from the inside out. We've had a diversity and inclusion council for a number of years, creating employee resource groups to better connect," he said.
When asked about career highlights, Crowley was modest: "Probably the most satisfying was our response to Hurricane Maria – getting relief down to islands." In addition to an enormous effort to first protect and then fix and then redeploy or reopen terminals, warehouses, vessels and other assets, the company made heroic efforts to facilitate the collection, transport, release and distribution of food and aid cargo.
Striking a Balance
During his tenure as CEO Crowley has seen much change: "We have been involved in many geographies and types of service – generally focusing on hard-to-reach sites … or those with logistical challenges. I would say the biggest change [lately] has been the rapid drop-off of offshore oilfield development." That change has triggered a change in corporate strategy that emphasizes flexibility and adding value using the equipment or expertise or other assets it can bring to table.
For many CEOs a work-life balance is hard to strike. "My job is not a transactional job," Crowley said. He must always think big-picture and long-term. Results of decisions made each and every day are not usually seen for a while. "In my personal life, I like a nice beginning and an end." That extends to time spent with family in a range of outdoor activities – skiing, boating, hiking – as well as simple endeavors like cooking and even cleaning out the garage.
Crowley shared another career highlight, which he called possibly one of his craziest decisions, which was taking on the Costa Concordia salvage job. The grounding of the cruise ship in the Tyrrhenian Sea in 2012 was an international news event. Crowley's former TITAN Salvage subsidiary, in partnership with an Italian marine contractor, was able to remove the wreck, since deemed the most technically demanding marine salvage in history. The wreck required anchoring and stabilizing, preparing supports on the underside, parbuckling, affixing sponsons (buoyancy chambers) and then refloating with 36 hydraulic strand jacks, and delivering to Genoa scrappers. TITAN received numerous awards for the herculean effort including one from the North American Marine Environmental Protection Association.
Sustainability Strategy
Crowley Maritime is a recognized leader and aims to be "the most sustainable and innovative maritime and logistics solutions company in the Americas by 2025."
"Clearly our industry has an opportunity to clean up emissions and do things better. Previously we were focused on [not] spilling oil but it goes beyond that now … there is a long way to go to lessen the industry's footprint," Crowley said.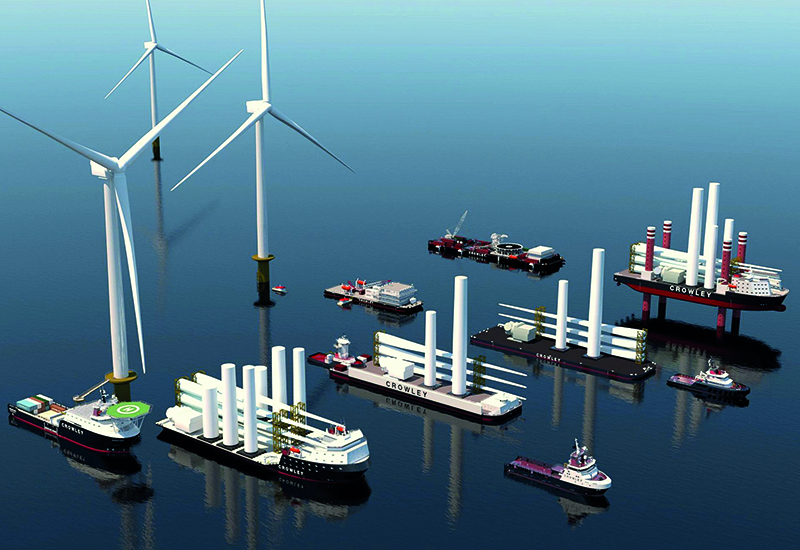 Electric equipment and assets are integral to Crowley Maritime's plans. "We have a team internally that developed a concept for a fully electric tugboat, working on battery power. We're excited about getting that launched in a couple of years," Crowley said, expressing pride in employees who approach challenges proactively.
In developing its sustainability plan, Crowley Maritime created a materiality matrix, prioritizing what matters most to ensure that strategic actions have the highest potential for positive impact.
New energy is a high priority. Crowley launched the world's first liquefied natural gas-powered ConRo ships in 2018 and 2019 on the Puerto Rican trade. A US$550 million investment built two American ships and associated port upgrades. The vessels accommodate international and domestic containers as well as roll-on, roll-off.
In the LNG arena, Crowley has designed and developed customizable LNG bunker barge concepts, will charter (with Shell) an LNG bunker barge that will be U.S.-built and have a record 3.17-million-gallon capacity, and is deploying 10,700-gallon ISO tanks to enhance mobility of LNG to customers in Puerto Rico, the Caribbean and Central America.
Winds of Change at Work
In January 2021, Crowley created a New Energy division. The company's media release described a goal of providing broad, coordinated services supporting emerging energy sectors, particularly in LNG and offshore wind.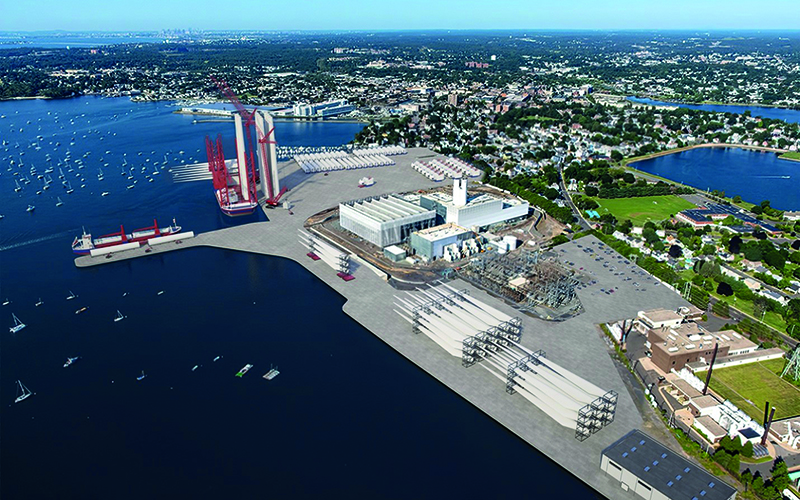 Crowley said he sees sustainability as integral to future success, and that the industry needs to work hard on the transition. He said he sees a great many opportunities related to new and clean energy, including opportunities for corporate investments and for creating new well-paying jobs: "Offshore wind is upon us now. Strategies are aligned. We have studied the market and understand where developments will be."
On Sept. 30, 2021, Crowley announced a major wind energy deal. The company is to enter into a public-private partnership with the City of Salem, Massachusetts, to create and operate at Salem Harbor a 42-acre port for offshore wind, under an agreement with Vineyard Wind, the future anchor tenant. The site will be purpose-built for the assembly and staging of turbines – blades, nacelles and tower sections destined for offshore installation.
This venture seems fitting for a corporation whose strategies routinely position it as a provider of service offerings through the full lifespan of a transaction, as in complete supply chain services for cargo, or in this case, complete project development, port operation and maintenance, and undoubtedly future Jones Act-compliant feedering to and from offshore wind sites.
Crowley said: "We're looking at ongoing needs from shoreside terminaling to supporting wind farms," and he described skill sets that will serve the company well in the jump to offshore wind including expertise in moving large construction project components, experience in offshore oil and gas services, engineering and naval architecture strengths, and management and operational proficiency in deploying U.S.-flag assets.
Since 2018, Crowley has also extended its defense and government logistics reach. Building on long-time experience in government ship management, the company was awarded the US$2.3 billion Defense Freight Transportation Services contract, one of the U.S. Department of Defense's largest transportation services contracts.
Future Essentials – Visibility, Predictive Analytics
Crowley predicted that powerful drivers of future success would include visibility and analytics. "Cargo visibility is paramount ... Customers want to know when it is getting there or when it will be delayed. Tracking, data analytics, predictives," in concert with learning the business of customers to put in place better solutions, is becoming critical.
With new capabilities, Crowley said, it is easier to follow the movement of cargo from "where it is worth nothing to a place where it adds value and is of service. It takes heavy assets and equipment to get the job done, and more and more it takes technology and that will change us." Predictive analytics will transform all parts of transportation, creating efficiency and sustainability, he said, so Crowley Maritime is "looking for opportunities where we can combine technology and good old-fashioned knowhow to do things better for the customer."
At a time when many logistics CEOs swoop in from a parallel industry and leave just a few years later, Crowley stands out as a long-timer with a master hand, a strategist who somehow combines a stalwart ambassadorship for maritime, with an eagle eye for leveraging existing corporate strengths into new and apparently successful businesses.
Based in the U.S., Lori Musser is a veteran shipping industry writer.
PHOTOS:

Photo 1: Thomas B. Crowley Jr. CEO and chairman, Crowley Maritime Corp.

Photo 2: Crowley focuses on building strong teams, good communications and leveraging technology. CREDIT: CROWLEY

Photo 3: Crowley's diversified fleet services a range of maritime industries. CREDIT: CROWLEY MARITIME SERVICES

Photo 4: Rendering of Salem Harbor, a 42-acre port for offshore wind, which Crowley is involved in. CREDIT: CROWLEY MARITIME CORP.