---
Sep 02 | 2021
INFRA grants for 24 projects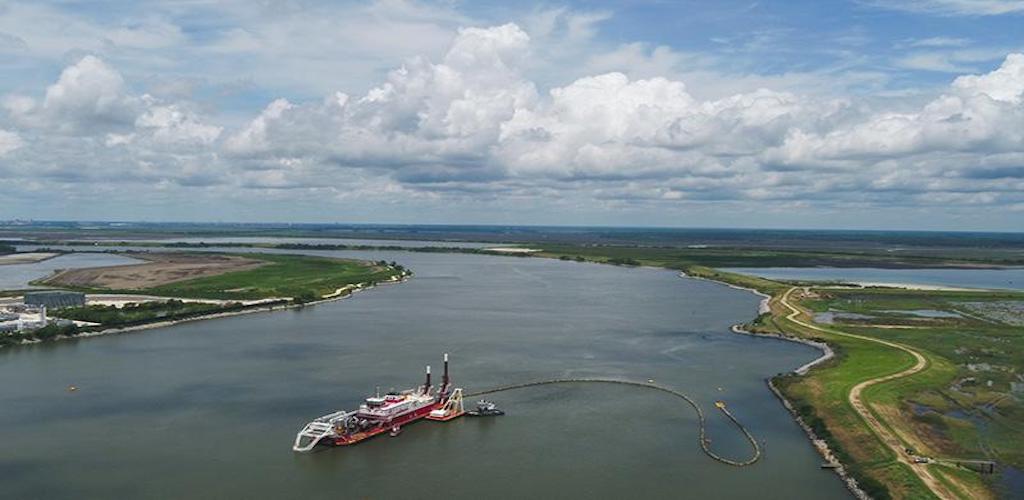 A new round of infrastructure investment grants in the US promises to support a raft of much needed port and transport upgrades, driving new breakbulk opportunities over the medium term, as demand outpaces supply, business advisory firm Stratfor predicts.
The U.S. Department of Transportation announced almost US$1 billion in awards earlier this year, under its 2021 Infrastructure for Rebuilding America (INFRA) Grant Program. This program will see US$905.25 million in funding awarded to 24 projects in 18 states.
"The demand for the grants still far outstrips the amount of money awarded to the program," Rebecca Keller, Director of Analysis at Stratfor told Breakbulk, "For grant applicants, meeting increasing requirements to address emerging technological benefits, environmental challenges and social concerns will narrow some of the field."
The USDOT estimates that applications exceeded available funding more than seven-fold, with 157 eligible applications received from 42 states, as well as Guam, a collectively totalling approximately US$6.8 billion.
The INFRA program is seen as a cornerstone of the Administration's strategy to rebuild infrastructure and create jobs and comes alongside President Biden's ambitious US$1 trillion Infrastructure Investment and Jobs Act. INFRA awards were based on multiple criteria including the projects' impacts on climate change, environmental justice, and racial equity.
For many regions this funding is long overdue with the U.S. currently ranked outside of the top ten for transportation infrastructure, despite the country's position as the world's largest economy. The White House estimates that 173,000 miles of major roads and 45,000 bridges are in 'poor condition', posing heightened challenges for breakbulk logistics.
Port upgrades
For breakbulk operators some of the major benefits will likely arise from upgrades to port infrastructure designed to increase capacity and add flexibility to handle outsized and complex cargoes.
One of the largest port awards is for the Port of Philadelphia (PhilaPort), which will receive US$49 million for the construction of new multi-use berth at Southport. The proposed development will cost an estimated US$130 million in total and will complement the deepening of the Delaware River shipping channel, currently underway by the U.S. Army Corps of Engineers. It will allow for larger multipurpose and roll-on, roll-off vessels to dock directly at the Southport terminal, bringing in a greater variety of project cargo.
"With this INFRA grant the port can leverage and build upon current expansion efforts," Jeff Theobald, CEO of PhilaPort, commented. "The Southport Berth Development and Port Expansion project has been ready to advance for the past several years and without this critical funding from the U.S. Department of Transportation the project would not be possible."
The project will be the first deepwater berth construction in Philadelphia in almost 50 years.
"Of the projects awarded INFRA grants in FY 2021, four are directly applicable to port operations," Keller notes, adding that many of the biggest impacts may be "localized and regional" based on where grants are awarded for FY2021.
Also on the East Coast, the Georgia Ports Authority (GPA) was awarded US$46.9 million to build a new inland container port along the I-85/I-985 corridor in Gainesville, linking with the Port of Savannah by direct, 324-mile intermodal freight rail service. While this is primarily focused on boosting container traffic, ancillary infrastructure upgrades will undoubtedly support greater breakbulk capacity at the Port of Savanah, a major project cargo hub, with Keller predicting that it will make the region 'more efficient and cost competitive'.
GPA Executive Director Griff Lynch hailed the 'important transportation project' forecasting it would support "the region's thriving manufacturing and logistics corridor" and reduce "highway traffic, cut carbon emissions and lowers costs for cargo owners".

The award to the Port Authority of New York and New Jersey will see US$44 million go towards the modernization of three mile stretch of roadway at the north entrance of Port Newark, while The South Jersey Port Corporation will receive US$9 million to improve the Port of Salem, rehabilitating a 150-linear-foot bulkhead and extending it to 500 linear feet; dredging a new berth and redeveloping an adjacent 6-acre site.
"The small grant awarded to the Port of Salem, New Jersey will give that port the ability to handle transport of wind turbine components," Keeler notes, highlighting the role that relatively small projects can have in facilitating the wider energy transition.
Sustainable solutions
At the centre of the new INFRA grant funding is the Biden administration's focus on sustainability and clean energy solutions with many of the selected projects supporting emerging industries such as wind power, which are expected to drive gains for breakbulk operations.
"These timely investments in our infrastructure will create jobs and support regional economies, while helping to spur innovation, confront climate change, and address inequities across the country," Secretary Pete Buttigieg commented.
Keller concurs, noting the "renewed push" from government and the private sector to increase "not only climate awareness but also climate action" through support for green initiatives as well as the greater analysis of impacts and risk prior to approving investments and loans.
With this in mind Keller foresees new challenges ahead for some project developers as they must balance changing requirements from private and public investors, highlighting that "for each individual project that receives an INFRA grant, additional funding will need to be obtained through non-government means" and this can be many times larger in order to fully deliver projects.
---
Subscribe to BreakbulkONE and receive more industry stories and updates around impact of COVID-19.