---
May 31 | 2020
Women in Breakbulk Panelists: 'We're All Human After All'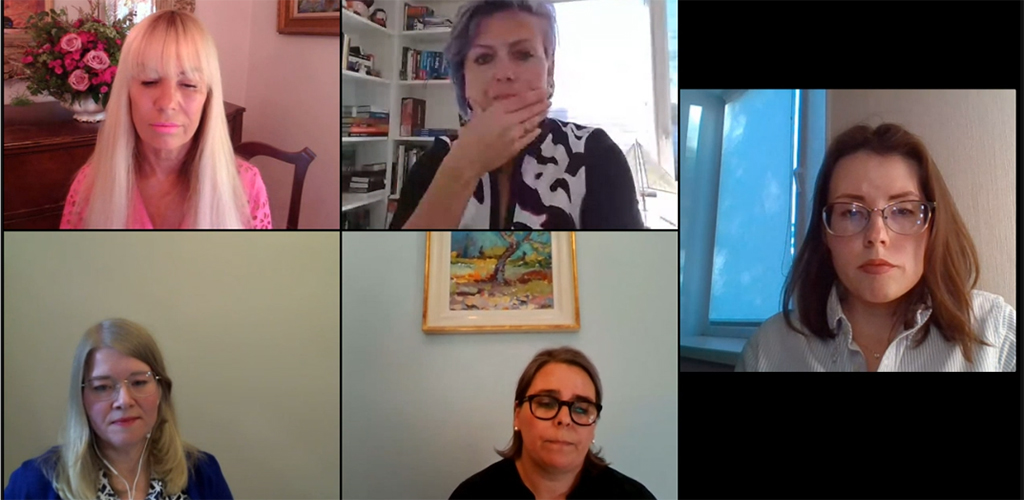 By Gary Burrows
"Trust" and "Empathy" during the Covid-19 pandemic were the two key points agreed upon by panelists during a Women in Breakbulk webinar held May 28.
Nikola Hagleitner, executive vice president marketing and sales, DHL Global Forwarding boiled down her leadership focus during the pandemic down to three key points: empathy and motivation, communication, and collaboration and agility.
"It comes down to empathy. We're all human before anything else," she said.
For employers with a sales and marketing focus, such as Hagleitner, and Ekaterina Andreeva, commercial director for Volga Dnepr UK Ltd., the shift to home officing has been a profound disruption.
"I've personally traveled for 15 years, every single week," Hagleitner said. "It was really a very strange experience to suddenly be at a standstill … We started working from home, then I started living at work and now I'm back working at home because I realized you have to have clear boundaries."
It was the same jarring exercise for the 2,500 salespeople under her management. Her solution from the start was motivation, and to be "personal and very empathetic.
"Every call I will start with 'how are you doing?' My personal mantra is, you won't remember what someone said to you, but you will remember how they make you feel," she said. "Everyone is struggling with the personal and professional leadership."
"The role of every employer now is to create a sense of stability and confidence with their employees," Andreeva agreed. "While physical health is very important, it's easy to forget and even neglect mental health. Covid-19 is scary and many people are scared and struggle with anxiety and fear."
Andreeva said regular conferences are held with cameras on, so employees can see each other's faces. "It's important to make a personal connection with the people during these difficult times.
"Sometimes it's more important to laugh and share a funny story than talk about KPIs, because we're all humans after all."
'Communicate and Over-communicate'

Along with empathy and motivating staff, Hagleitner said she initially set out to "communicate and over-communicate, internally and externally.
"We wanted to be very transparent and honest with our customers," she said. "Every Monday we send a customized advisory to all of our customers where we clearly say, 'these are the hot spots, these are the issues, these are our mitigation actions and this is what we have advised you to do.' It has been very well received."
Internally, along with regular meetings, Hagleitner holds Zoom coffee hours every Friday with her direct reports, as much on the personal side as on business content.
Andreeva said Volga-Dnepr has begun holding regular company-wide seminars "for all employees, with top management involved, on different and important topics. For instance, they've held seminars on personal health and company strategy, and invite external professionals as speakers, such as a doctor to explain Covid-19 from a medical perspective and answering staff questions.
For Sylvia Boer, director of Amsterdam Ijmuiden Offshore Ports, a member organization active in the offshore energy business for the North Sea canal region, the pandemic handcuffed their chief functions.
"To add value to your members we organize participations, exhibition, company visits, lectures and network drinks, all initiatives that nowadays are no longer possible," she said.
The organization quickly ramped up regular calls with members to stay in contact and weekly meeting calls. She said members appreciated the attention, and that it was also an opportunity to share valuable information, not only with members, but for members to interact among themselves.
One benefit derived from this were companies coming together to work out opportunities to share technical personnel, and also to develop online training to retrain technicians among new verticals. "A lot of synergy came from these business calls," noted Boer, who is also president of the Women's International Shipping & Trading Association – Netherlands.
While for most companies, developing home office procedures with implementing digitization and IT systems and abilities to communicate, DNV GL, the classification society, already had those systems in place.
"We were lucky to implement a few years ago an access system to allow customers to log in online and get 24/7 response," said Claudia Ohlmeier, group leader, Port State Control for DNV GL, and president, WISTA – Germany.
Like Boer, the pandemic eliminated its ability to perform its chief function, which is to board vessels and ensure their compliance with classification rules as well as international rules and regulations.
"This has had a huge impact on the regulatory setup of the maritime industry, because all of the governments involved in these regulations had to adapt to the situation,"
The access system allowed DNV to quickly focus on the regulatory aspect. "For us it really paid off," Ohlmeier said. If customers "need to involve colleagues, group leaders or heads of sections to make sure if we had to adjust to current legislation, that we make sure that this is still in line."
In order to deal with "crisis functions" as well as maintaining business, Ohlmeier took the customer support function and heads of sections handled the internal functions.
While many focus on a "new normal" in which there is no going back, she believes that, for the classification society, "it's not in a new normal, we're in a parallel universe."
DNV and regulatory agencies have had to be flexible in their standards to account for the lack of contact. Once contact restrictions begin to loosen, everyone will have to return to the important regulations that have been in existence for decades.
"We will shaft back not to old standards from before, but a new standard that will be close to what we had before rather than what we have now," she said. "I think that will be difficult. Customers will challenge us for what was possible (under Covid-19 protections) but not now."
Collaboration
While acknowledging "collaboration" as "a great buzzword," Hagleitner said it has been vital in breaking some barriers that developed during the start of the pandemic.
"As soon as we hit panic mode and crisis mode, a lot of the people who have been more traditional forwarders, they kind of shut up and focused on their own are and suddenly we're dealing with silos again," she said.
Hagleitner said DHL marketing took the lead and began to bring all its products – air freight, ocean freight and project, together on twice-weekly meetings to "create a platform that will be the single source of truth." Information from all areas is shared collectively and the result has been that decision-making is quicker and more effective.
"We're a large company and we're not known to make fast decisions. But if you have everybody together, everyone knows we have one hour to iron everything out for the next week. This was really fantastic."
Health and Safety
For cargo airline Volga-Dnepr, "emergency response has always been a vital area," said Andreeva, who noted that "health" is one of the company's core values.
"In the past few months we have flown thousands of tons of equipment and humanitarian cargo in our aircraft as well as project goods for the health industry, including mobile hospitals and sanitization trucks," she said.
An important procedure implemented at the start of the year, the airline has been the full disinfection of all aircraft before and after every single commercial flight.
Further, the airline's biggest challenge and priority is crew health and safety, Andreeva said.
"We assess every region where we are flying. We provide protective equipment for all crew members, and we hold regular medical checks and testing for all of our staff."
---
Subscribe to BreakbulkONE and receive more industry stories and updates around impact of COVID-19.