---
Feb 14 | 2021
Women in Breakbulk – Breakbulk Middle East Digital Special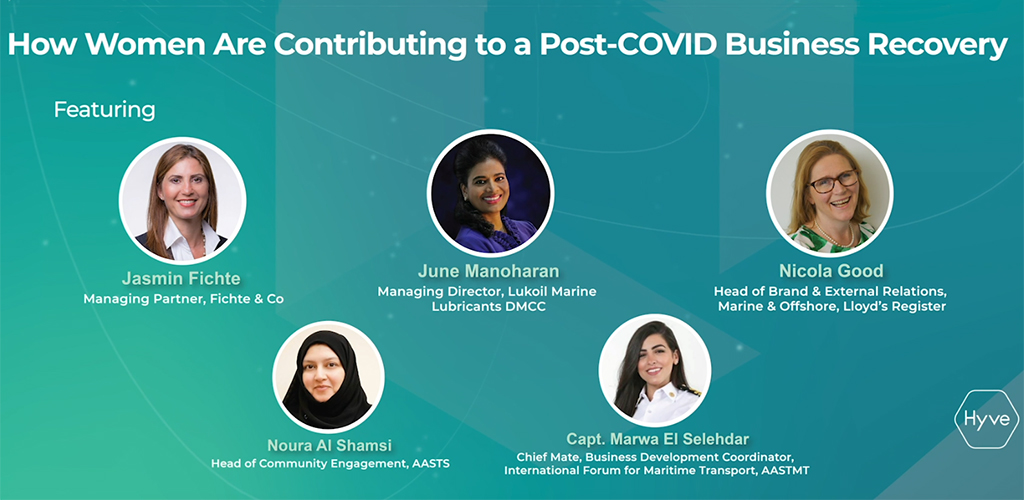 By Gary Burrows
Women in Breakbulk's program during the Breakbulk Middle East Digital Special called upon industry officials to offer that thoughts on two subjects: a career blueprint, and how women are contributing to the post-Covid-19 recovery. Here, we offer an overview of speakers describing the reaction to the pandemic.
Jasmin Fichte, managing partner, Fichte & Co.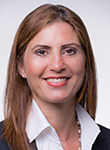 For women leaders navigating business during the Covid-19 pandemic, "emotional intelligence" was key, Fichte said.
"Women sometimes go with their gut feeling … and it has definitely proven positive," she said.
Fichte said she was amazed how quickly the UAE adjusted. As a lawyer, she witnessed "how quickly the court system moved to an online scheme and we had arbitrations as well."
Many aspects of the pandemic struck regardless of gender, such as combining working from home with homeschooling children. Men and woman "have faced our fair share and I think we'll all very excited about going back to the office after that."
The people aspect of remote working is a challenge Fichte takes seriously. While some employees remain plugged in, "you have other people who you need to look out for," she said. These people will "fall overboard at one point or another. We need to make sure we're moving ahead as a team and we're not losing focus."
Given an uptick in Covid infections in the UAE, she believes things won't return to normal by the third quarter. "We need to hang in at least a little bit longer," she added.
Meantime, her approach is to look for opportunities, network in whatever limited options there are, including using social media to stay in touch with most important customers, suppliers and try to stay active.
June Manoharan, managing director, Lukoil Marine Lubricants DMCC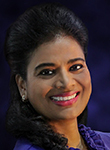 While Manoharan believes many leadership qualities are gender neutral, female leaders have some unique qualities that have served well during the pandemic.
"Extra empathy, more communicative, more inclusive and also sharing information and more community-driven," she listed. "By sharing tasks and expectations enables the team to achieve its respective goals."
With the pandemic and the upheaval of work practices, motivating and building confidence among teams has been the biggest challenge, she said.
Coming to terms with the new way of working remotely has driven the adoption of technology to achieve goals and targets, and is leading to taking further steps, she said.
Lack of travel has created cost savings, and freed up time. Companies should invest in training and development, as well as allowing personal time to reinvigorate. Cost savings can be turned into new development, exploring new markets and diversifying business.
"Where there's adversity, there's always an opportunity, and we should make use of the opportunity," Manoharan said.
Nicola Good, head of brand and external relations, marine and offshore, Lloyd's Register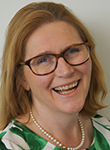 "Pragmatism, patience and practicality are among the chief skills that women bring to crisis and recovery," Good said.
The Covid-19 pandemic has emphasized that "people respond to crises differently, and people's wellbeing must be prioritized," she said. The pandemic has required leaders to find "flexible solutions that work for all in the team, allowing people to maintain their work-life balance while accommodating any extra responsibilities they now have to deal with on a day-to-day basis."
The pandemic has forced change across the board but, as has been largely noted, it has accelerated necessary changes, albeit ahead of schedule.
"We all had the tools to work remotely for many years, but not all of us have used them," said Good, who noted she has been a slow adapter in tech functions. "The past year forced us all to change. And as a result our acceptance and appetite for technology is second to none."
As a result, she believes digitalization will shape the industry in the coming decade.
"I think the legacy will be the different ways of working we've learned, and I think these lessons hold advantages for both employers and employees alike. Technology's not just an enabler but it is also a flattener of hierarchies," she said.
Though she acknowledged the necessary face-to-face that comes with business travel an engaging in leading industry events like Breakbulk's, there are values in digital forums, which includes an intimacy and growing networks beyond local communities, Good concluded.
Noura Al Shamsi, head of community engagement, AASTS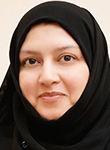 Women, by default, are multitaskers, Al Shamsi told Women in Breakbulk participants.
"You're a woman, you're an employee, you're a mother, you're a teacher, it all comes together," she explained.
The pandemic has required everyone "to be everything at the same time." Further, Al Shamsi said it has forced the lesson that "human capital is the most important thing and our priority to keep them safe. Without our employees, without our students there will be no operations. This is what help us grow and develop."
Despite the horrific impact of Covid-19 to life and health, Al Shamsi believes there will be long-term actions on industry employment based upon the need to social distance and shift to remote work. Working from home enables women to balance work-life, proven from the current multitasking (though burnout remains a challenge for extremes).
Rania Tadros, managing partner, Ince & Co. Middle East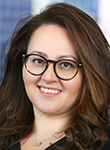 Looking at how different leaders have dealt with the Covid-19 pandemic, many point to the success of women leaders, said Tadros, who participated in the "career blueprint" session of Women in Breakbulk.
Beyond gender though, she believes countries that have responded well are countries where people trust their leadership.
"Look at New Zealand or UAE all countries that I think have had very good response to covid. And I think the reason for that is because they trust their leadership.
"That's always a quality that sits with me, that I need my team to trust me and I need to earn that trust and I need to deserve that trust. And I think you do that through acting with integrity in every decision you make."
Capt. Marwa El Selehdar, chief mate, business development coordinator, International Forum for Maritime Transport, AASTMT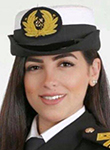 El Selehdar said she was the "first Egyptian girl to join the maritime field," and with that "faced a lot of obstacles."
First, obviously, was her gender, the chief mate said. Upon graduating, she said she applied to companies but the answer was always the same: there is no place for females on board their ships.
Fortunately she got a chance from her academy and has worked on board a training vessel, giving her a step towards her goal of becoming a captain.
According to El Selehdar, women represent only 2 percent to 3 percent of her field. "If we afford them a chance to work onboard or to gain their training onboard, I think this percentage will increase," she said. A 50-50 gender split is optimistic.
"My message to my seafarer colleagues and sisters is never let anyone tell you that you can't," she said. "Keep your professional performance and attitude … and please be supportive of other women."
Women in Breakbulk Sessions
Women's Unique Leadership Roles Benefit Industry
Many Paths to Female Leadership: A Career Blueprint