---
Jan 05 | 2022
DHL Executive Driven by Determination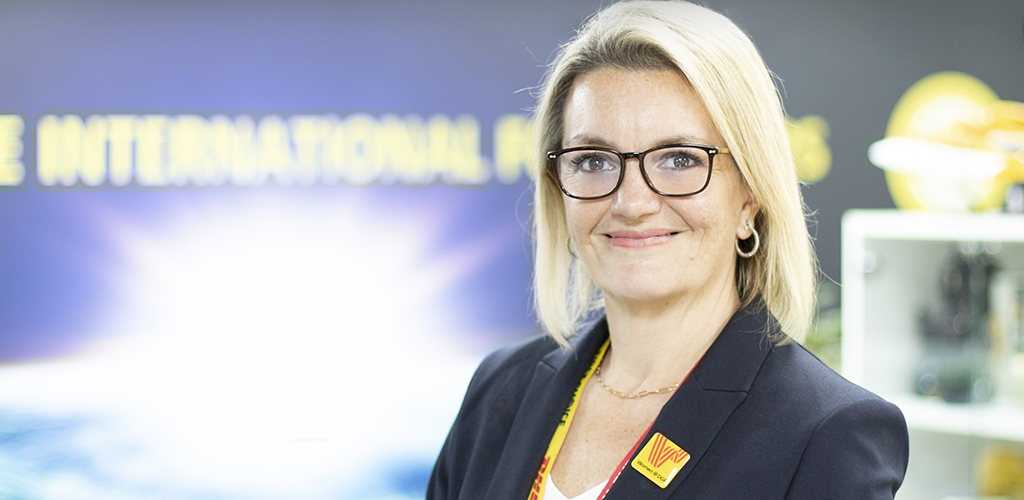 Preview story from Breakbulk magazine's January-February 2022 Issue, available Friday, Jan 21

By Felicity Landon
Most Zoom conversations seem to start with Covid: How is/was it for you? How is work going? What are the challenges? How are you dealing with them? Sue Donoghue's reply set the tone for the rest of our interview.
"It has been a challenge, but you make the most of it and, as with everybody and everything, you adapt. Is it easy? No, but you find the way to innovate and to motivate the team. You do what you need to do. It is an ever-changing world, and we need to continue leading by innovating."
Today, Sue Donoghue is DHL's CEO of the Arab Cluster and DHL's managing director for the Kingdom of Saudi Arabia. Her career in logistics started shortly after graduation.
"A friend was working in a freight forwarding company and they needed someone to cover reception for two weeks. I did the two weeks and then the managing director asked if I would be interested in coming to work there. I said I didn't want to be on reception, so two weeks after that I was in as a trainee forwarder."
Before that point, Donoghue said she had never given a thought to logistics or forwarding. "I didn't really know what it was, but I had drive and I was curious and worked hard. It helped me to develop and reach goals that I never thought I could."
At FH Bertling, she worked her way up from being a trainee, assisted the operations director, supported the managing director with his customers, and then moved into the Caspian department where she was tasked with project management.
Donoghue managed projects as well as coordinating the heavy-lift team, eventually becoming the deputy head of department. Fast forward 19 years and her managing director was moving to DHL Global Forwarding. He asked her to join him to set up the industrial projects team.
"I started again, setting up the team and building my way up," she said.
Middle East Move
From head of industrial projects in London, she became global business process manager for DHL in 2012 and then global head of operations and implementation in 2016.
A year later, Donoghue was involved in bidding for a sizeable project in Saudi Arabia. "We won the project and were recruiting for a project director. I was asked to take on the role, which although initially I was very hesitant about accepting, my drive and determination prevailed and I can say that taking this role helped me to develop and reach goals that I never thought I could."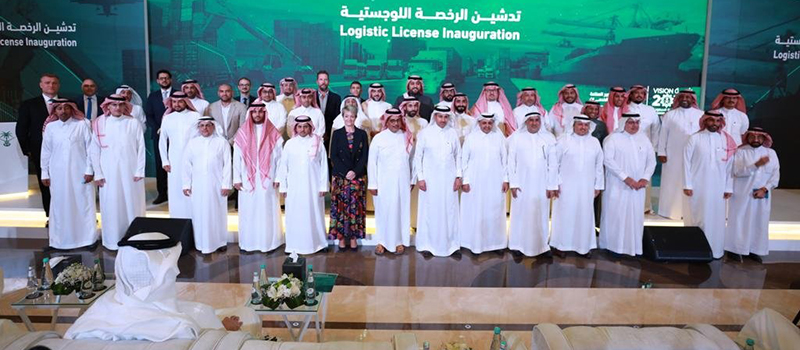 She took on the challenge and worked through the renewal of the contract as well. Up to that point, DHL had been represented exclusively by an agent in the country, but then the decision was taken to set up a wholly owned DHL entity. "DHL wanted to expand the DHL Global Forwarding footprint. We set it up and in 2020 I was asked to take on the role of managing director and to grow the business under our own name."
From there, she was asked to take on the cluster responsibility, covering Bahrain, Kuwait and Saudi Arabia, and she also sits on the group's Middle East board. For an idea of what that means, Donoghue referred to the recent inauguration of a new logistics license in Riyadh, with DHL being one of the first to receive the license. She has had to 'find a way around things.' "Not everyone is ready for the norms to be challenged. I am conscious about being culturally intelligent and meeting people where they are. I strive to accomplish my purpose in a respectful way."
Donoghue is based in Dubai, but her job inevitably demands travel, which has picked up again after the Covid shutdown. "That is important, especially in the region where I work, which relies on personal interaction and relationships," she said.
She quoted DHL's "respect and results" aspirations and noted the strong ambition for sustainable growth.
"We are doing a lot of work alongside the Saudi 2030 Strategy and are obviously interested in the really big projects such as Neom (the US$500 billion mega city project in the northwest of the country). We want to grow fast, we have aspirational targets, and we want to be involved in any way we can to meet the Strategy 2030. It is the same across my cluster and the region – an accelerated growth pattern, be the best, be the No. 1 logistics leader in the world. We were one of the first companies to get the new logistics license. We want to innovate."
Emissions Focus
Decarbonization is key, she said. "Saudi Arabia has already reduced its emissions significantly and has a big plan in place to reduce them further. It is diversifying away from oil and gas – now tourism is a key focus area for Saudi, as are giga projects like Neom, digitalization, making it easier to do business and more accessible. The country has diversified a lot, including into renewables."
DHL's own strategy is to be a zero-emission operation by 2050. "I think in order to be a key player you have to keep up with this, you have to be cognizant of the changes and challenges and you have to embrace them," Donoghue said.
She acknowledges the strong support network in the UK that has enabled her to pursue her career. "I was a single mother when I started, I subsequently married and have two amazing sons, a daughter-in-law and grandson. I have always traveled for work and I couldn't have done what I do without the support of my family."
And despite first impressions, her degree in psychology has been important in an unexpected way. "I did a degree because my parents said it was what you need in business. I am forever thankful that I did. When I became managing director in Saudi, I had to hold a degree to get an appropriate visa. Some countries consider that a degree is key to whether you can be manager level or not."
She would encourage other women to follow her lead. "The industry is more open now than it was when I started. There are more opportunities. There is still a way to go, but there are a lot more initiatives and support for women to come in and get to board level."
In the early days, learning on the job was a case of sink or swim, she said. "My career in forwarding might have started as a surprise but being strategic about my growth led me to this moment and place in my career. No two days are the same – you can be accountant, logistics, trouble-shooter, business development, sales. Very quickly I saw that this was such a multifaceted job. It gets under your skin."
Felicity Landon is an award-winning freelance journalist specializing in the ports, shipping, transport and logistics sectors.
Photo 1: Sue Donoghue, DHL's CEO of the Arab Cluster and DHL's managing director for the Kingdom of Saudi Arabia.
Photo 2: Donoghue (center front) was integral to DHL's award of a new logistics license in Saudi Arabia. CREDIT: SAUDI PRESS AGENCY