---
May 27 | 2023
Powerful SK350 Crane Deployed to Handle Mammoth Components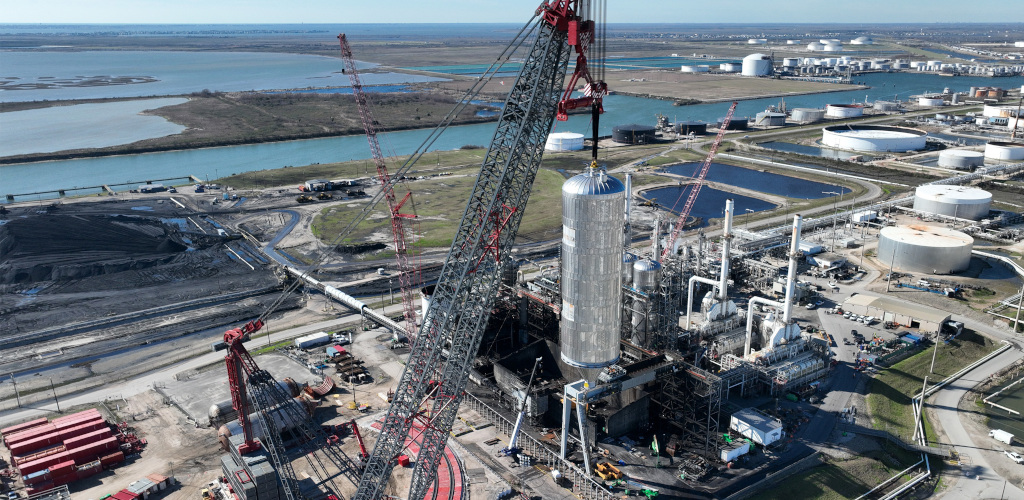 Netherlands-based heavy-lift specialist Mammoet has deployed its powerful SK350 crane to remove and replace four coke drums at a Texas refinery.

The changeover was part of a planned turnaround at the refinery's coker unit.

The SK350, a 5,000-tonne-class crane, was first used to extract a 53-metre-tall derrick weighing 740 tonnes to enable the coke drums to be reached. Next, each of the old drums weighing 270 tonnes were removed and replaced with the new 448-tonne units.

Once in place, the derrick structure was reinstalled.

Each of the eight coke drums was handled using the SK's auxiliary hook. According to Mammoet, lattice boom cranes typically have two hook blocks hanging from the boom, with the main hook block acting as the crane's heavy-duty block that can handle the full lifting capacity of the crane.

Hanging in front of the main hook block is the auxiliary or runner hook block, which is typically considered a light duty block. The auxiliary hook block moves up and down much quicker than the main block, hence its nickname "runner".

On the SK, the runner hook on its own has a 600-tonne capacity, making it strong enough to lift a load as heavy as an average coke drum, which would typically require the strength of a heavy-duty main block on most cranes.

At the Texas refinery, all ten lifts were completed ahead of schedule, Mammoet said, despite strong winds and heavy fog that hampered the project.

"Using the world's strongest land-based crane, Mammoet's international team comprised of six nationalities led the coke drum replacement project to a successful conclusion," said Sidney King, project manager at Mammoet. "With zero recordables and despite some weather downtime, the SK350 was able to complete all the client's lifts days ahead of their planned schedule, giving the turnaround an opportunity for an ahead of schedule completion."


Mammoet will be exhibiting at Breakbulk Europe 2023, happening on 6-8 at Rotterdam Ahoy. Reserve your tickets here, then come meet the Mammoet team in Hall 1 Stand 1D20-E21.