---
Oct 26 | 2023
Saudi's Record-breaking Development Roars Ahead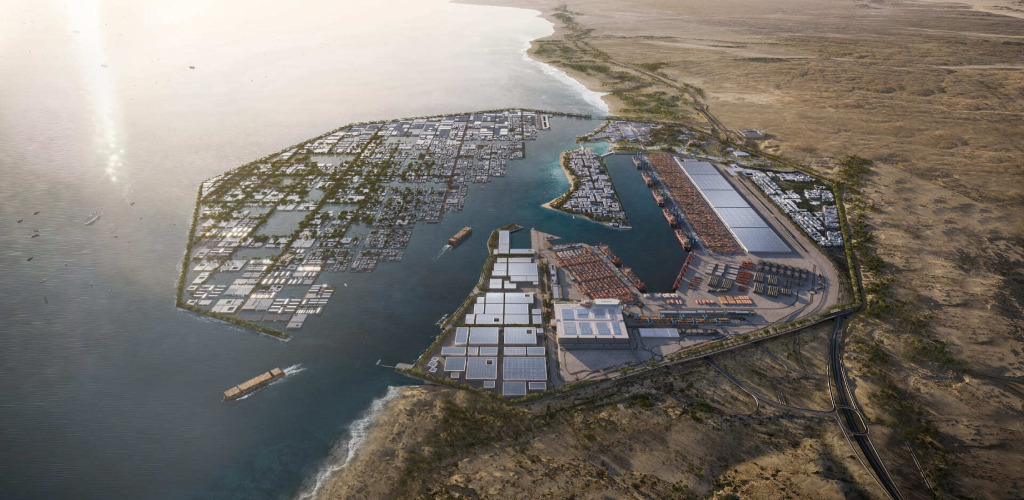 By Heba Hashem

From Issue 6 of Breakbulk Magazine, we bring you up to speed on all the latest developments at Saudi Arabia's US$500 billion NEOM project, including Kuehne+Nagel's role in supporting the buildout of the world's largest green hydrogen production facility.


As the largest project in the Saudi Vision 2030, a post-oil blueprint which aims to transform the Kingdom into a sustainable, diversified economy, NEOM is a massive undertaking. Costing an estimated US$500 billion and covering more than 26,500 square kilometers in Tabuk province in northwest Saudi Arabia, the planned mega-city is expected to have capacity for 450,000 people by 2026 and up to two million people by 2030, eventually housing nine million by 2045.

"Today in NEOM, there are 55,000 laborers, 3,000 employees, and around 50 contractors. In seven years, there will be 450,000 laborers. Companies are already moving earthwork and laying foundations for all the projects to be done," NEOM CEO Nadhmi Al Nasr told participants at London Business School's Middle East Conference in May 2023.

Led by the Public Investment Fund, NEOM's masterplan includes smart cities, logistics areas, research centers, sports and entertainment venues, and tourist centers. The city will be entirely powered by renewable energy, including 1.6 gigawatts, or GW, of wind and 6.5 GW of solar power. With these capacities, the government hopes to create an optimized energy mix at costs well below global averages.

One of the largest projects in NEOM is a green hydrogen production facility which is set to be the world's largest once operational in 2026. Located in the city's Oxagon region, a fully automated port and integrated logistics hub, the landmark project is a joint venture between NEOM, Saudi utility Acwa Power, and Air Products, the world's largest hydrogen producer. The facility will be powered by 3.4 GW of wind and solar energy to produce an initial 600 tons of green hydrogen per day for global export.

However, since 2020 when it was first announced, the project's capital needs have soared by 70 percent to US$8.5 billion from its original budget of US$5 billion, according to a Q1 2023 financial update from Air Products, a co-developer and the exclusive off-taker of the facility's green ammonia.

Breaking down the budget increase, Air Products attributed US$500 million to inflation, US$1.8 billion to "project financing costs, upfront fees, interest during construction, additional joint venture costs, spares, land, etc," and US$1.2 billion to "additional scope to make the project more self-sufficient and lower operating costs." To make the project "self-contained," the company said the co-developers plan to provide services themselves, such as transmission lines and other infrastructure components.


Turbine Transport

Despite the higher investment value of US$8.4 billion, NEOM's green hydrogen project reached financial close last May, securing US$6.1 billion in non-recourse financing from 23 entities. A month after financial close, Air Products selected Envision Energy for the supply of 1,670 megawatts, or MW, of wind turbines to the green hydrogen facility.

The Chinese renewable energy group, in turn, contracted Swiss logistics company Kuehne+Nagel in August to transport 190 wind turbine generators and 67 tower sets to NEOM. The project entails the transport of 1.4 million tons of components and is expected to be completed in 2025. More than 100 project logistics professionals, vessel chartering experts, transport engineers, drivers and riggers have been deployed to manage cargo movements.

Michael Doerpinghaus, global head of project logistics at Kuehne+Nagel, told Breakbulk that the company has delivered the first batch of turbines. "We have opened an office in Tabuk, successfully delivered the first six wind turbines to the designated port of departure, completed the loading of the first vessel, started deploying operations teams, handling equipment and transportation to Duba, and are already planning the second delivery."

The company's scope of work includes collection of wind turbine components and accessories from Chinese factories, transportation to the port, chartering and loading of vessels, and shipping to the Port of NEOM. It also includes customs clearance, temporary storage, and delivery to 257 installation sites.

"We have partnered with a specialist ocean carrier and contracted the necessary transportation and crane capacity from market-leading industry partners for the duration of the project," Doerpinghaus said.

Having capabilities on the ground is facilitating the process. "At NEOM, we have presence in three locations: in an office at the Port of Neom, from which we manage ship unloading, port transfer, interim storage and crane operations; in a project team office in Tabuk; and with an on-site representative for each part of the transport, who coordinates on-site activities and interfaces with our customer and its installation contractor."

Meanwhile, Indian conglomerate Larsen and Toubro, or L&T, is the engineering, procurement and construction contractor building the 2.2 GW solar plant and 1.65 GW wind generation balance of plant at NEOM's green hydrogen project.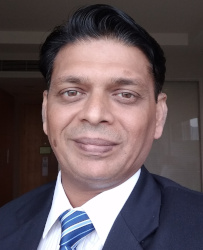 The company's scope includes supply and delivery of solar PV panels and associated structures procured from multiple geographies, mainly Asia. "We have already identified logistics service providers including freight forwarders and customs handling agents in Saudi Arabia for executing the shipments," Dharmendra Gangrade, head of the logistics management center at L&T, told Breakbulk.

"As a strategy, we're not entering any long-term contract with any shipping line or freight forwarder, since freight market and space remains volatile, and we would like to take advantage of available lower freight [cost] without compromising on the targeted schedule."


Dynamic Environment

With archaeological sites, nature reserves, and towering mountains, the terrain of Tabuk where NEOM is being built can be challenging for truck fleets, according to Almajdouie Logistics. Back in 2021, the Saudi firm transported 98 wind turbines, each 205 meters long and weighing 69 tons, for the Dumat Al-Jandal station, the Middle East's largest wind farm. The 1,700-kilometer journey from Duba Port (now Port of NEOM) to the project site in Al Jouf took the fleet through Tabuk's rugged roads. It was the largest renewable energy transfer in Saudi Arabia.

Besides the terrain, there are also potential risks of flash floods during the rainy season and strong winds that can cause delays in unloading the cargo, according to Doerpinghaus. He said that Kuehne+Nagel was familiar with the challenges in this region having already handled a project with 98 wind turbines from another manufacturer in NEOM, as well as project cargoes from other customers.

"We are aware that we operate in a very dynamic environment where conditions and infrastructure change within a short period of time and prepare our operations accordingly, always being able to react flexibly within a short time."

The Port of NEOM, the main port for Saudi Arabia's northwest launched in 1994 as Duba Port, is now being completely transformed. Since taking over its management in 2022, NEOM has expanded the port's capabilities to match the rising volume of cargo coming into the new city, including container and general cargo handling. The port has already received the turbine components for the Dumat Al-Jandal wind farm.

"From the development plan of the Port of NEOM, it looks like it would be one of the most technologically advanced, with modern facilities and the highest standards of sustainable development. This could make it a role model for many upcoming ports which are considering/ undergoing upgrades," Gangrade said.

NEOM has invested more than US$2 billion to date in developing the port and anticipates the first container terminal to be open in 2025. The city has also appointed U.S. construction services company Jacobs as lead design consultant for the redevelopment of the port, a US$48 million project spanning terminals, warehouses, rail delivery, infrastructure, and a sustainable energy network.

"So far, our contacts with the Port of NEOM have been consistently positive. The port authority is striving to become a regional hub by modernizing and expanding the port infrastructure and dealing with all stakeholders using the port facilities in a professional and transparent manner," Doerpinghaus said.

Road freight is also expected to become easier following the opening of NEOM's Heavy Machinery & Truck Service Center last July. Operated by local automotive services company Petromin Corp., the facility will address the growing demand for maintenance and repair work for heavy machinery, trucks, buses, and various other vehicles supporting NEOM's projects.


Social, Housing Infrastructure

As NEOM expands at a faster pace, dozens of companies are securing contracts to develop key pieces of infrastructure, which is expected to drive major breakbulk activity in the Tabuk region. One of these companies was India's KEC International, a global infrastructure EPC major which won a turnkey order of US$138 million for the development and installation of a 380 kV overhead transmission line in NEOM.

Hitachi Energy, a Switzerland-headquartered technology company, has also signed agreements with the Saudi Electricity Co. and NEOM's energy and water subsidiary Enowa to supply three high-voltage transmission systems. One of these systems will connect Oxagon with the larger Yanbu area south of Tabuk, more than 650 kilometers away in Western Saudi Arabia.

Another company which recently secured a project in NEOM is National Engineering Services Pakistan. As part of a US$12.5 million contract, the Pakistani state-owned firm will provide construction management services for projects within various zones encompassing NEOM Bay, NEOM Mountain, and NEOM Phase II, according to a report by Saudi English daily Arab News.

When it comes to transport infrastructure, construction work is about to start on the Connector, a high-speed railway that will run north to south along Saudi Arabia's Red Sea coast, connecting NEOM's port city of Oxagon with its linear city, The Line.

A joint venture of Italian industrial group Webuild and local firm Shibh Al Jazira Contracting Co. will design and build 57 kilometers of the railway as part of a US$1.5 billion contract signed in May. The partnership includes the civil works for two high speed and two freight railway tracks, with Webuild leading the execution of work. It also covers the viaducts, road bridges, and road and rail underpasses to facilitate train speeds of up to 230 kilometers per hour.

As the centerpiece of NEOM, The Line will cut across 170 kilometers, starting in the west at the Gulf of Aqaba, continuing through desert valleys, and terminating at the NEOM International Airport. High-speed transit will be among the ways residents will be able to travel longer distances, making it possible to traverse the entire route in just 20 minutes.

"The Line represents 92 percent of the whole NEOM, and the rest is 8 percent. So, when you [have] a project like this, it will take about 30 years to build it and bring residents and populations. This has never been done before, it's a 500-meter-high complex livability, 9 to 10 million [people] will live there. Construction is the first of its kind, yet we are confident we will do it." Al Nasr said during the Middle East Conference.

NEOM has already finalized contracts worth more than US$5.7 billion with local investors to develop 10 communities, adding capacity for 95,000 occupants. The investors include Almutlaq Real Estate Investment Co., Nesma holding Co., Tamasuk, and Alfanar Projects. The latter is injecting US$2.7 billion to develop five residential neighborhoods in the city.

With milestones being hit every month, NEOM's attention is turning to its airport, the future gateway for visitors to the Red Sea destination. Earlier this year, the city awarded American infrastructure consulting firm AECOM a multi-year contract to provide project management consultancy services for NEOM International Airport.

Clearly an ambitious project, NEOM offers a vision of what the new future might look like. But what is even more remarkable is the city's commitment to protect 95 percent of its land and sea as a nature reserve. This means that all projects will be developed on the remaining 5 percent, including the four planned regions and 16 islands.

"What we are going to deliver by 2030 and 2050, the two key dates, is only the beginning of the journey of NEOM," Al Nasr said. "This is not just a project, what we are offering in NEOM is [the opportunity for] people to come and be part of a game-changer for the world."


NEOM is a member of the Breakbulk Global Shipper Network.

TOP PHOTO: The Port of NEOM, located at Oxagon. CREDIT: NEOM
SECOND: Dharmendra Gangrade. CREDIT: L&T