---
Sep 28 | 2023
Industry Leaders Ponder Future of Breakbulk Decarbonization Initiatives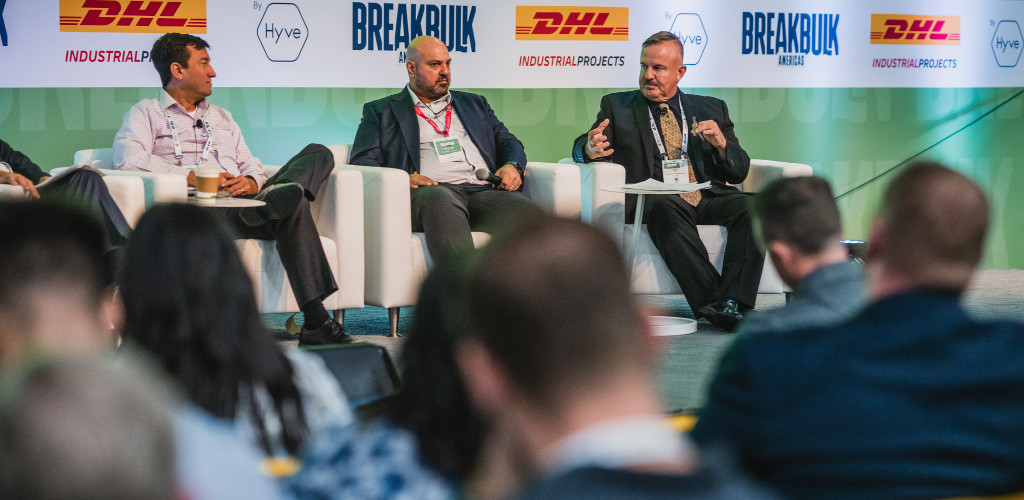 By Alex Keimig

Breakbulk Americas 2023: The road to decarbonization is paved with good intentions, but implementation in breakbulk shipping continues to prove a challenging prospect, delegates were told during a main stage "Journey Towards Decarbonization" panel session in Houston.

With the US government's challenge to reduce carbon emissions by 35 percent by 2030 having been set into motion, some areas of the industry are facing difficult changes.

Jeffrey Short, vice president of the American Transportation Research Institute, or ATRI, said regulations in California were "pushing us forward toward battery electric vehicles – in particular, battery electric trucks – and while we want to move toward decarbonization, what we really need is the tools to do that as effectively and efficiently as possible.

"My suggestion would not necessarily be one answer for a single solution to this, but investment in research and development related to all different types of tools and possibilities, especially for trucking."

Opportunities abound, however, to find alternative methods of decarbonization that allow industry players to help meet sustainability goals without sacrificing productivity or performance.

"We're not a regulatory agency," said Brian Hill, Western Gulf Gateway Director at the US Maritime Administration. "So how we encourage more decarbonization is through our grants. Our grant applicant will more likely be successful if they can share some steps they've taken or are taking toward decarbonization, environmental justice, emission reductions, and other such efforts. That's how we can encourage this industry now, without waiting for one perfect solution to appear."

Looking for many smaller or more specialized opportunities and weaving them together into a larger picture is how Namir Khanbabi, general manager at Swire Projects, described their approach to the issue in an area where one larger solution – battery electric systems – may not be possible: maritime shipping.

"We already have two options available to us: one is fuel efficiency, and the other is green fuel transition," the executive said. "We aren't going to discuss electric battery operations for ocean trade because they won't have the necessary range. It's just not going to work for the services we run. But we have a lot of initiatives going on with the existing fleets where we're looking at what we can do to meet the standards that are being applied, like applying silicone coatings at our own cost."

Though it may be slow going, the maritime transition to green fuels is making steady progress.

"The Port of Houston just completed a methanol bunkering barge to fuel other (methanol-running) vessels. So now if there's a methanol-run ship that comes in, it can be refueled here for the first time. The Port of Victoria is also participating in work to produce renewable ammonia for transportation. There's a brand new industry starting and changing right before our eyes. More will come in the future, but these innovations are starting to happen right in front of us," said Hill.

While one single perfect option to unite the industry beneath the banner of decarbonization may not exist, there remain almost limitless approaches that can leverage their individual strengths together to continue making progress toward a greener future.

"To mandate a single solution is literally not going to work," said Short. "I am hopeful that folks realize that, and we can look at these other solutions that exist – some of them that we've mentioned today – and continue to do much more research to get this right so that we don't find ourselves missing opportunities."

The session was sponsored by AsstrA§-Associated Traffic, a global provider of comprehensive, end-to-end logistics solutions.