---
Jun 29 | 2020
Shining the spotlight on female leaders in the project cargo and breakbulk industry throughout the Americas, this conversation revolved around leadership tools that have become essential in the current crisis for both women and men.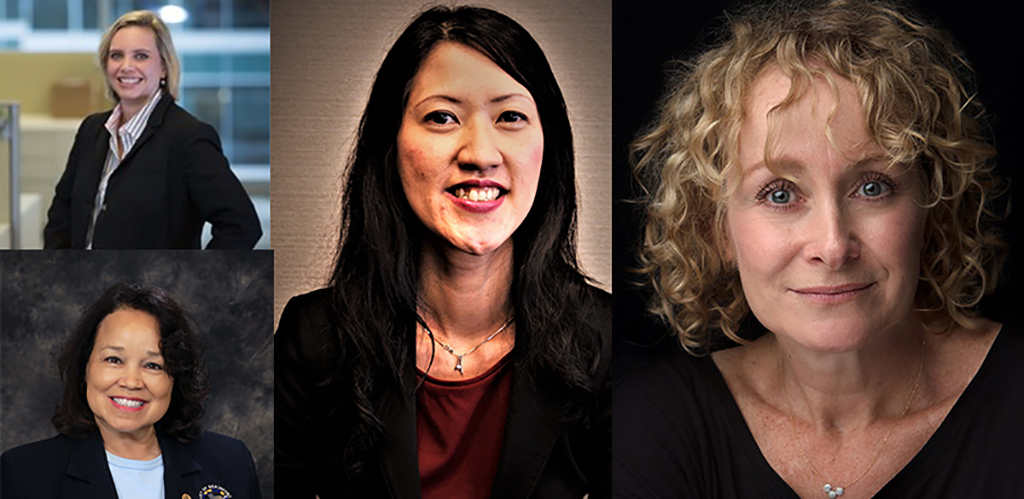 Times of crisis – and the recent pandemic certainly qualifies – are opportunities for decisive leadership, and for women in the project cargo industry, a chance to demonstrate managing acuity and authenticity.
During a Breakbulk365 webinar, "
Women in Breakbulk on Crisis Leadership
," life coach Amy Kan pointed to examples of women-led governments' response to the Covid-19 pandemic, in Germany, New Zealand, Norway and Taiwan.
Kan said leaders like German Chancellor Angela Merkle and New Zealand Prime Minister Jacinta Arden brought calm authenticity to their pandemic strategies. They sought experts, expanded outside of the usual government cycle, and their actions resulted in fewer deaths and infections within their borders, compared to nations like the UK and U.S.
"Authentic leadership is about bringing our unique voices to the table," said Kan, principal of Amy Kan Coaching, with 20 years' experience in marketing and media industries. "When you're an authentic leader, you embraced who you are and bring that unique expertise to the table."
Making Most of Opportunities
Despite attempts to broaden women's role in the work place – and in the boardroom – a broad inequality remains, Kan said. According to accounting firm Grant Thornton LLP, 25 percent of worldwide businesses having no women in senior roles. Fast Co. Men enjoy a 21 percent higher promotion rate early in their careers, according to
Fast Company.
However, according to management consultant McKinsey & Co., companies with diverse leadership teams perform better.
Industry webinar panelists demonstrated that making the most of their chances led to success within their companies.
"Don't be afraid. Don't be intimidated," said Georgine Guillory, secretary-treasurer of the Port of Beaumont Commission. "If you're interested in something, and want to do it, make sure you educate yourself, but take that chance."
"I was actually hired at Halliburton as an administrative assistant," said Amber Knipe, senior global customs brokerage manager at the leading oil field service company. "From there, I was mentored by a logistics professional and my career took off. I worked up the ranks to senior management.
Leadership in Times of Crisis
Through reacting to the Covid-19 crisis, Guillory, Knipe and Yuliana Wu, project chartering manager at Bechtel Global Logistics, helped reshape their respective organization's responses to the pandemic.
"I would say communication and training have been the biggest challenge," Wu said. "Training is more challenging and it's harder to delegate when you're not face to face."
Bechtel, like other companies, transitioned to remote working over the recent months, but maintained communication through team alignment calls each morning.
"We start every day with a 'priority of the day' call, so everyone knows what everyone is working on, and we are still in contact with logistics providers, and doing virtual training," Wu said.
"We did a lot of Zoom meetings," during the initial response, Port of Beaumont's Guillory said. "Most of the staff were at home working remotely. We adapted at best to the pandemic. We included industry in creating policies for industry to follow."
Those policies included setting up checkpoints for employees temperatures, monitoring visitors and providing personal protective equipment to keep employees safe, she said.
Laying down strict procedures now can help companies prepare for future disruption too. Georgine Guillory and her team at the Port of Beaumont.
"Moving forward, we now have a pandemic plan we can adopt for the future. Of course, health and safety is the priority. We have staff back at work in separate offices, and make sure they follow social distancing. We have a blueprint and a process moving forward," she explained.
Wu credited Bechtel's nimble corporate culture in adapting to the crisis. "As priorities shift quickly, we've also promoted our potential across other business units. The good thing about our company is that it is diverse, so we can move towards other areas with high demand."
During crisis management, it's important to stay positive, Halliburton's Knipe said.
"My secret is I have learned that no matter what, the challenges are going to keep coming, they're always going to be there, so don't bog yourself down in the details. There's a point where you can say 'I have to take a step back.' "
Women in Breakbulk
The Breakbulk365 webinar "Women in Breakbulk on Crisis Leadership" was recorded and is available
here
.
Breakbulk Events & Media conducts Women in Breakbulk webinars as part of Breakbulk365, as well as holding breakfast meetings across all events, and will present live events at Breakbulk Americas, Nov. 3-5 at the George R. Brown Convention Center. You can become a Women in Breakbulk member
here
.
---